Smooth & Elegant Fingered Acoustic Bass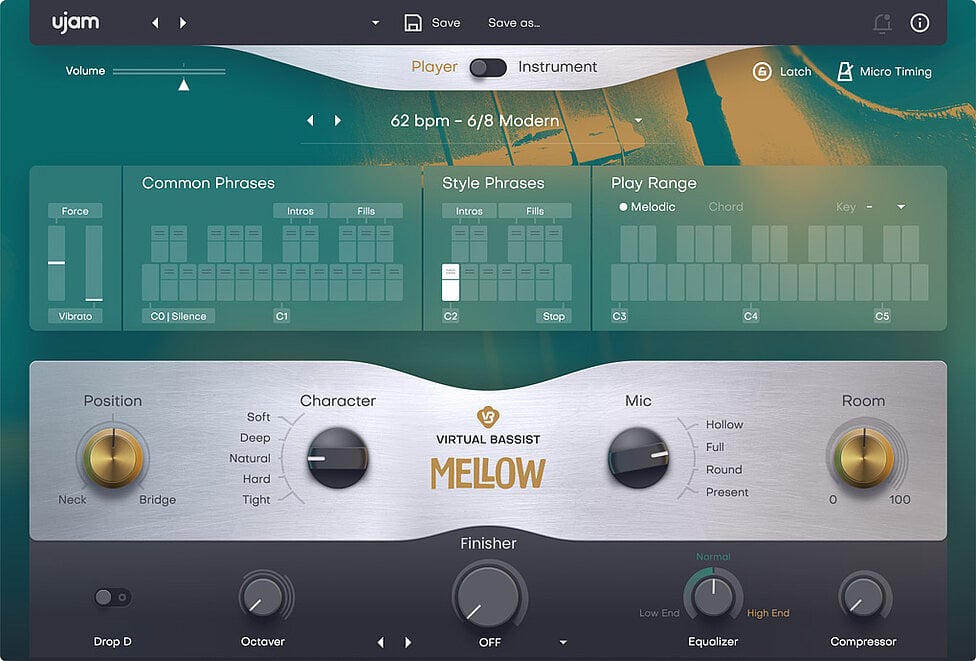 Forget Double Bass as You Know it
Introducing Virtual Bassist MELLOW – a double bass playing jazzy acoustic hipster that provides body, texture and a big bottom end.
20 new styles and 30 new presets
15 Finisher multi-effect modes
DAW quantization and UI resizing
Upright Bass that goes from smooth to powerful
60 styles and
1380 phrases
Adjust microphones, pick position and mixer channel
Real recorded room for ambience without mush
MELLOW isn't just for jazz trios though, feeling equally at home adding smooth, soulful and acoustic realism to singer-songwriter, RnB and Hip-hop styles.
Virtual Bassist MELLOW – at the heart of it is a meticulously recorded acoustic double bass, played with soul and feel, implanted in a virtual instrument adding realism, behavior and a player who knows his stuff. Smooth, elegant, with the odd noise here and there. At home as a subtle foundation in a jazz trio as well as powerful second voice in Hip Hop.
As with every UJAM product, MELLOW benefits from our frustration-free design philosophy meaning anyone can use this product to make music faster, better and easier, regardless of their music production experience level. Just follow the simple controls on the user interface to easily trigger one of over 60 styles and 1380 phrases to use in your tracks.
MELLOW's smooth, soulful and acoustic realism is unique. Even seasoned bass players themselves will appreciate the ability to get great sounding ideas down fast – with practically zero learning curve.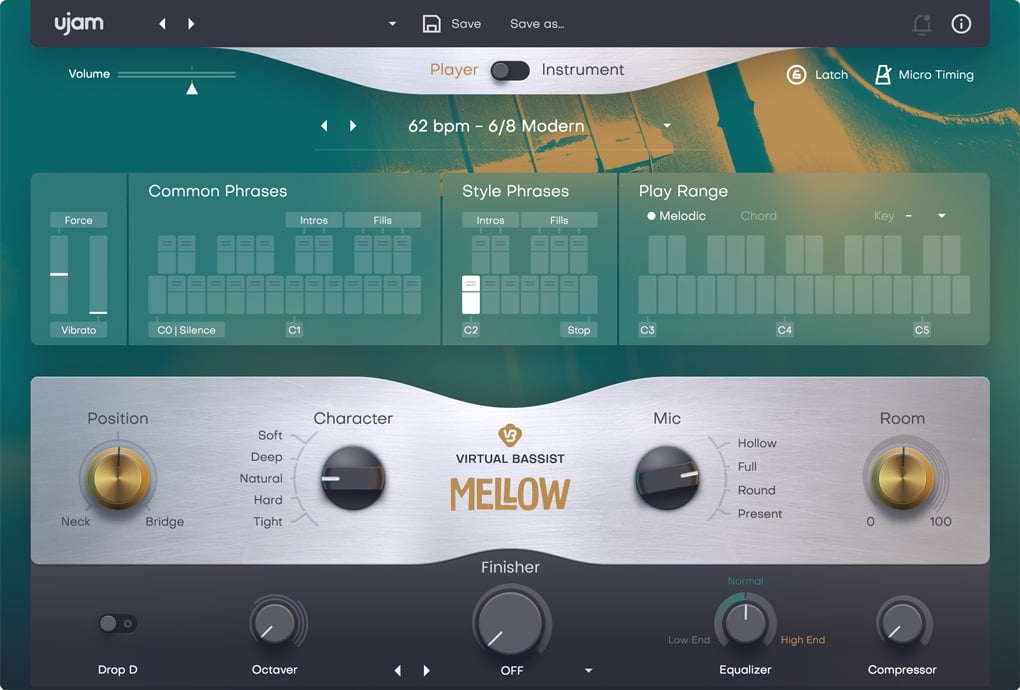 MIDI Drag and Drop
Drag and Drop your favourite phrases into the bass track of your DAW and tweak every little detail.
Show Some Character!
Select one of five sound characters, effecting the dynamic range as well as the overall sound of the instrument.
Mic It Up!
Select between four mix presets of the multiple direct microphone signals.
Finish It!
Choose from 15 Finisher multi-effect modes, each of it is a complex yet simple to control effect chain that takes your sound to the next level.
Virtual Bassist MELLOW has two distinct modes – Firstly, Player Mode, that gives you easy access to UJAMs traditional fail-free GUI and control set, just set the musical key and decide on the chords of the song and MELLOW does the hard work, even intelligently choosing the most appropriate articulations to augment your basslines.


For those that want more control and are comfortable playing the keyboard, our brand-new Instrument mode will let you access the whole of MELLOW's meticulously sampled fretboard with your MIDI controller, complete with dead notes, full stops and satisfying slides.
Add the final bit of sheen with MELLOW's simple yet powerful set of tone sculpting controls with separate parameters for many useful sonic and performance-enhancing features. Experiment with amp selection, dial-in instant character changes, note vibrato level, room reverb level, octave effects and not to mention dynamics and EQ.
PreSonus Chord and Key Track
With the new Virtual Bassist 2.1 update we will provide Studio One users running on version 4.6.2 or later with an exclusive PreSonus chord and key track feature! Descriptions of styles and phrases are displayed on the piano roll to help you find the right styles and phrases faster and easier for your track. The new chord track feature in Studio One automatically follows the chords and automatically changes the MIDI notes for you.
We develop software solutions that enable people to create, consume and interact with music.