Using modern string ensemble textures, with a sound design twist.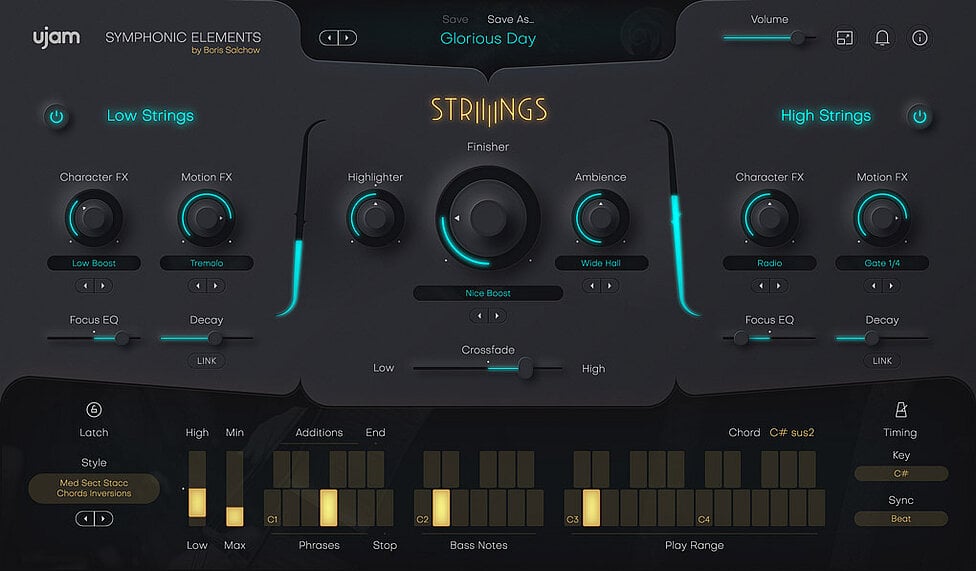 Few things can bring about the same sense of poetry and expression as a beautiful string texture. Strings elevate the emotion of a song… and that's what this plug-in is all about!
World-class string section phrases,
no string arrangement
skills required.
Brand-new creative performance
and sound design engine by UJAM.
60 playing styles, more than 200
sound designer presets.
Recorded at Hans Zimmer's
Remote Control Studios,
produced by Boris Salchow.
ujam is happy to count Hans Zimmer—one of the world's great film composers—as one of its co-founders. Hans generously gave us access to his legendary string recordings, amassed over decades, for use in STRIIIINGS.
Recorded on one of the world's leading scoring stages, played and recorded by the world's best.
No solo instruments here, and no control over intricate details like bowing techniques. And that's a good thing, because it means you don't have to think about it. STRIIIINGS will take care of the details, so you can focus on your music!
Extend your color palette
STRIIIINGS will always play perfectly voiced, exclusively engineered sounds so you can produce music with the same focus and flow that is the signature of every ujam instrument.

Taking the sonic DNA that defines the sound of Hollywood, I was invited to create a universe of epic phrases, creative atmospheres, pads, altered and gritty riffs and much more. Needless to say I had a LOT of fun!
– Boris Salchow, STRIIIINGS Musical Director, Film & Game Composer (Sunset Overdrive, Resistance 2&3, Dead Rising)
Whether it's the driving force in a blockbuster score, the punch in a hip-hop track or the
uplifting bridge in a pop song, with STRIIIINGS, you'll have the ability to bring your
creativity to life.
Customizable built-in sound design tools allow for modern atmospheres and textures that are entirely your own!
Born from art & technology
Ready to follow your musical lead through proprietary ujam technology.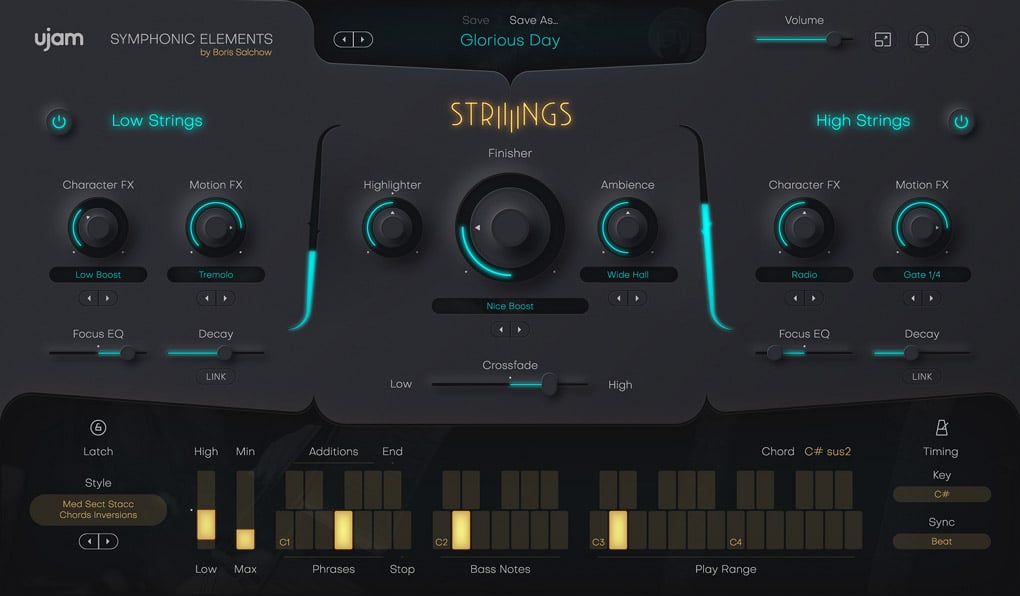 Character FX
With the delicate character FX presets you can give your sound a boost or cut frequencies to your liking. This works for both high and low strings.
Finish it!
The well-known Finisher multi-effect obviously found its way into STRIIIINGS as well. Try the distinctive Modes and give your sound a touch-up or completely change it.
Music in motion
Your sound deserves more! Choose a motion FX preset and control how it affects both high and low strings.
Conduct your orchestra
Dial-in high and low strings to your liking. With the crossfade you can fade between the elements.
The Highlighter knob is a multi-mode 24dB synthesizer filter specifically optimized for creating juicy risers and intros. Turn the knob left for a low pass filter, turn right for a resonant high pass.
Deep PreSonus Studio One integration
Descriptions of styles and phrases are displayed on the piano roll to help you find the right ones for your track.
The chord track feature in Studio One automatically charts the chords you play and modifies the MIDI notes for you.
We develop software solutions that enable people to create, consume and interact with music.