Fire drums for famous hits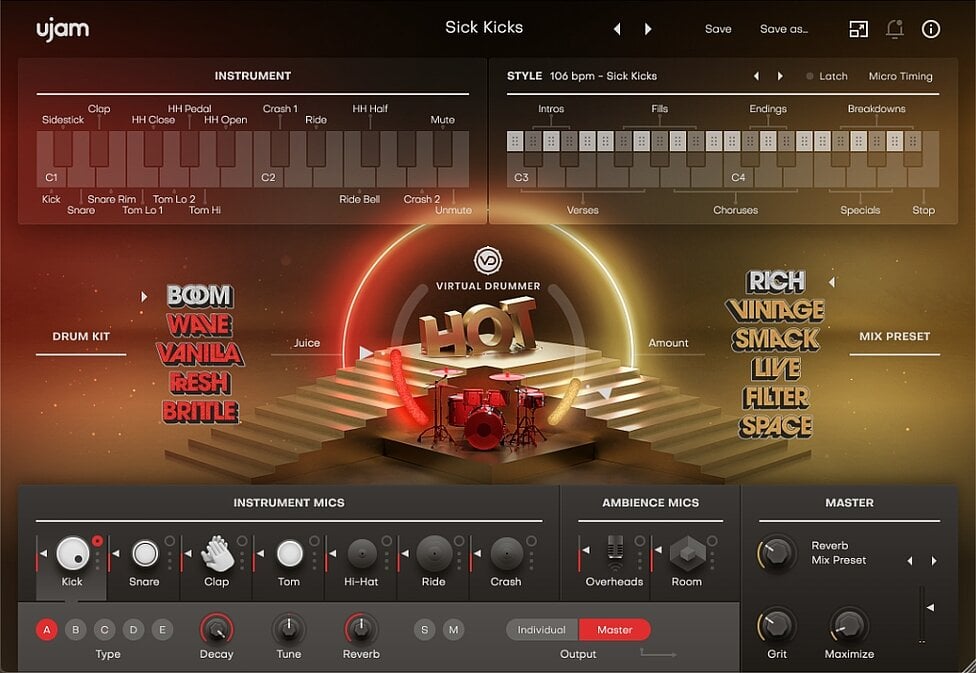 When it comes to popular music, the standards are quite high. World-class recording engineers track the most talented drummers in the shiniest of studios. Yet today's top charts all have two things in common: infectious drum grooves and punchy drums, processed to perfection.
30 Styles, 690 playable Phrases and 100+ Global Presets
5 Drum Kits, 6 Mix Presets, 6 Reverb Modes
MIDI Drag & Drop, Resizable User Interface
Special 'Juice' FX Control
The majority of today's charting tracks use electronic drum samples or highly processed combinations of sample layers. However, these samples must undergo extensive engineering to sit properly in a radio-ready mix, as they are often stale, lifeless and difficult to manipulate.

Virtual Drummer HOT provides real drum performances with punchy drum machine-like processing to replace your sample library with more lively and energizing drum grooves.
Virtual Drummer HOT is your one-stop-shop to professional, radio-ready drums – regardless of genre! These drums really pop... Hear 'em in action:
30 different Styles allow you to manipulate hundreds of rhythms from the most popular genres of music ranging from Hip Hop and Rap to Indie and Electronic.
Learn more about HOT in our Walkthrough video. Click the link below.
We've gone above and beyond to add a 7th instrument channel to each drum kit. Unique to Virtual Drummer HOT, you can now use clap sounds to supplement your snares and accentuate your grooves.
HOT features 5 full drum kits, 6 Mix Presets and 30 Styles, each with 23 ready-made patterns for a total of 690 playable Phrases.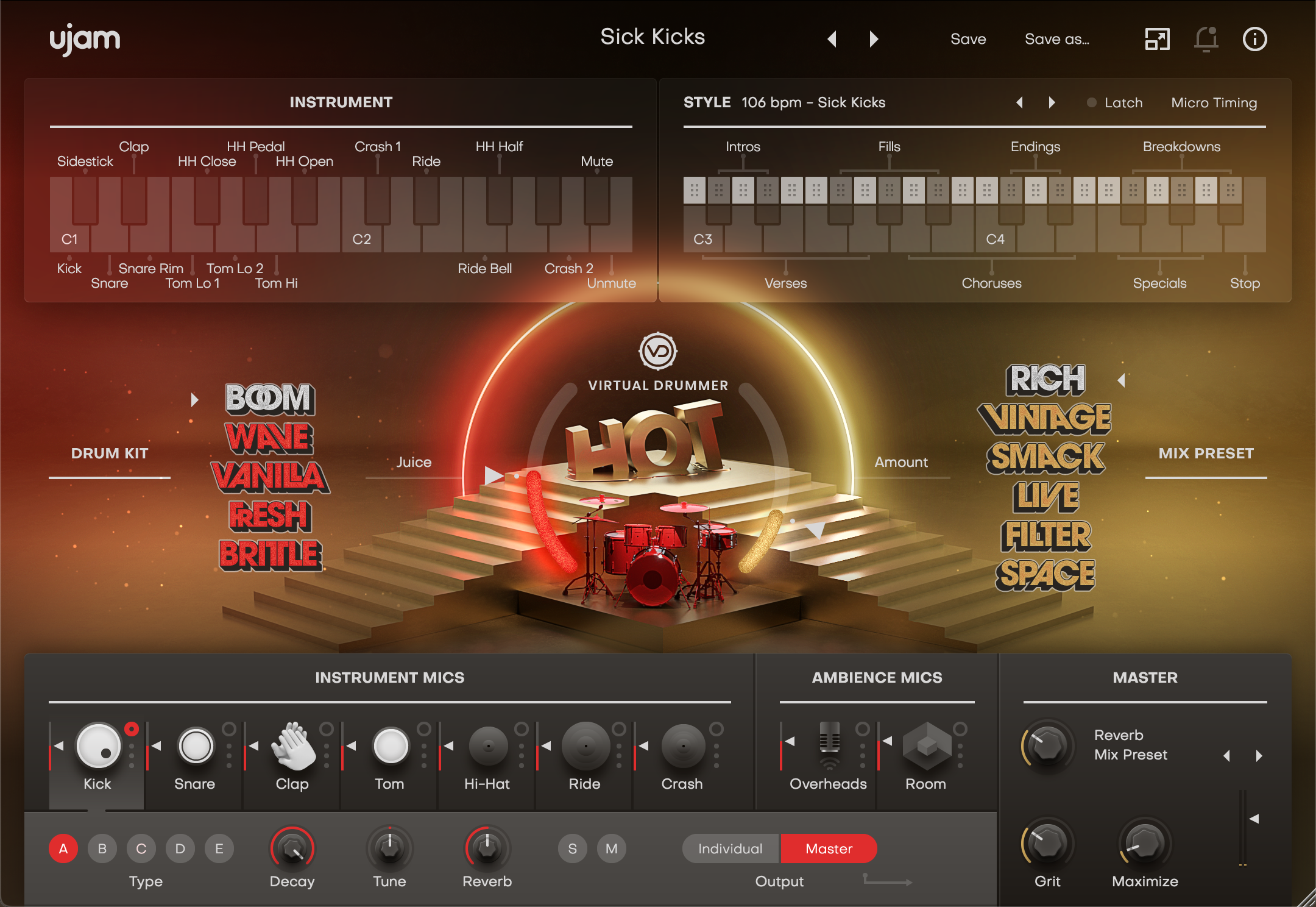 5 Drum Kits
Play through the five drum kits BOOM, WAVE, VANILLA, FRESH and BRITTLE. For classic Hip Hop over Synthwave/80s to EDM and modern Trap styles.
Instrument Microphone Channels
For each instrument (Kick, Snare, Clap, Hi-Hat) or group of instruments (Toms, Rides, Crashes) within Virtual Drummer there is an instrument microphone channel that lets you adjust volume and other parameters individually.
Spill the Juice
Make your acoustic drums sound more like a machine, or make your drum machine sound more acoustic – whichever angle you prefer. The Juice fader sends the drum signal through a chain of gorgeous microphones in full bandwidth hifi.
Leave it to the Master
The Master section gives you more detailed control over the global mix. It lets you choose a Reverb preset and adjust Reverb Level, it features a Saturate or Grit processor as well as a Maximizer, and the Volume slider now sports a Level Meter.
Mix Presets
This section is designed to provide you with the maximum control over the sound with a minimum set of controls – but don't be fooled: under the hood, you're programming a fully-featured mixing console with channel strips, busses and insert processors.
The 'Juice' fader offers a seamless transition from a completely natural drum variant to the archetypical sample aesthetic, much like that of the most popular drum machines.
Each Mix Preset shapes the overall sound by swapping out an entire multi-bus effect chain for every channel under the hood, offering you completely different sound aesthetics without the hassle of wrestling with the bus system of your DAW.
We develop software solutions that enable people to create, consume and interact with music.