Gold-Standard Session Drummer
For Top-notch Studio Drum Tracks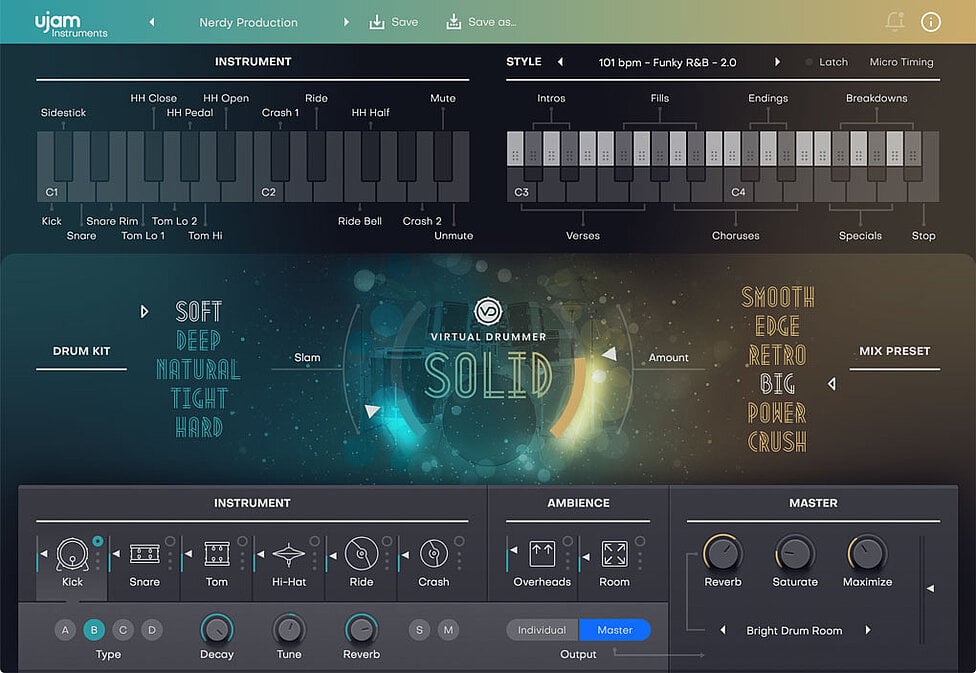 Virtual Drummer SOLID is your personal gold-standard session drummer, the backline bandmate we all dream of having - dependable, reliable and comfortable playing all popular styles and moods with ease. Build your tracks on the strongest foundations with Virtual Drummer SOLID and fully realize and finish your rhythmical arrangements in record time.
Drag-and-drop phrases to DAW for detailed note editing
Multi-outs for individual mixing in the DAW
30 new Styles with 650 new Grooves plus 100 Presets
Advanced kit editing, mixing and master sections
Everybody Comes to Hollywood
Virtual Drummer SOLID is your seasoned pro for sophisticated, grand productions. For all popular genres and moods, SOLID provides those untouchable gold-standard drumming styles and sounds that open record label executives' doors, hearts, and wallets.
Gold-plated Perfectionism
The key to SOLID's benchmark drum sound is in the meticulous way it was recorded. The creation of all 720 patterns started with the highest quality ingredients, right at the source, with a fantastic drummer, in prime acoustical space sitting in front of a collection of 'desert island' drum hardware. Only then were we happy to hit record, capturing each hit and phrase with a combination of premium microphones and recording chains to ensure the end results were of the highest caliber.
The versatile sound and intuitive & accessible controls mean that SOLID is truly suited to any level of music production skill. Novices can get instant access to many popular musical styles and rhythmical phrases without a steep learning curve whilst more experienced musicians and producers will delight at being able to get such great sounding results so quickly.
It's easy to quickly customize the sound of each of the five different drum kits by
dialing in some extra punch with the slam control or by using one of our six tone-
morphing character presets – here is where the sound of SOLID can quickly change
from being smooth and retro to being smashed to pieces!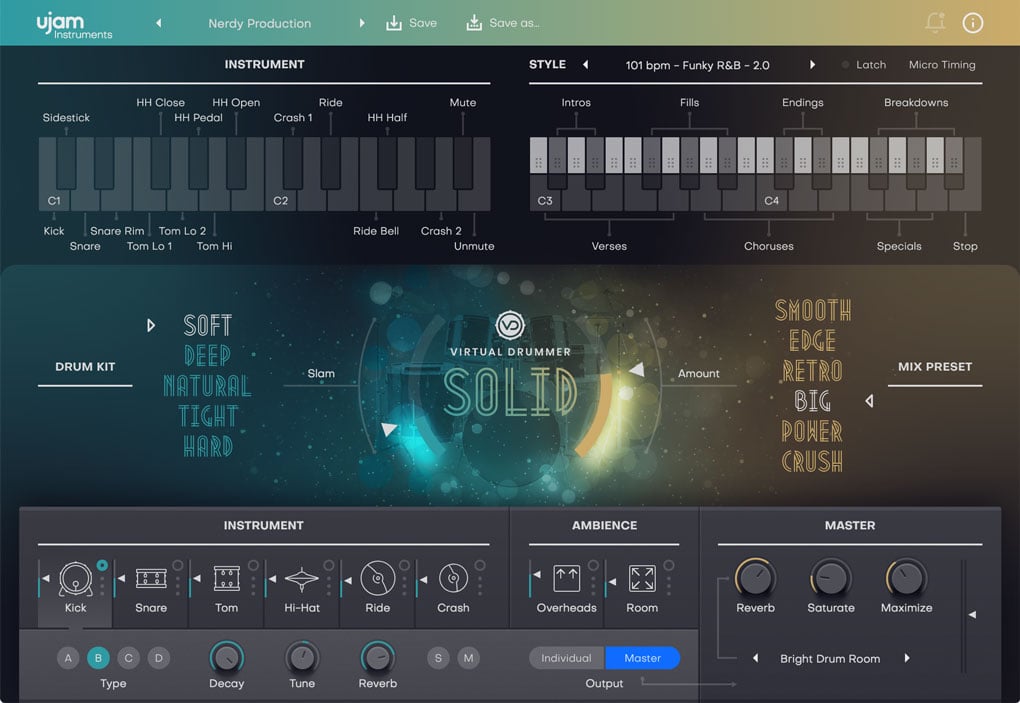 MIDI Drag and Drop
Export patterns to your DAW. Simply drag them from the on-screen-keyboard and drop them into your track.
Drum Kit
Five distinctive drum kits to choose from, all carefully crafted to fit into contemporary pop tracks.
Mix Section
Six mix presets to complete your sound, all put together by professional sound designers.
Instrument Channel
Mix and match instruments from up to four different types to create your own sound.
Finalize and finetune your drum mix by individually adjusting the volume of each component of the kit including separate controls for overhead & room mics before adding a touch of reverb.
Virtual Drummer SOLID even lets you control the feel of the performance allowing for pushing or pulling of the beat and adjustment of a humanize control for added authenticity.
We develop software solutions that enable people to create, consume and interact with music.