The Magical Movement Machine
Animate, morph, and re-groove your sounds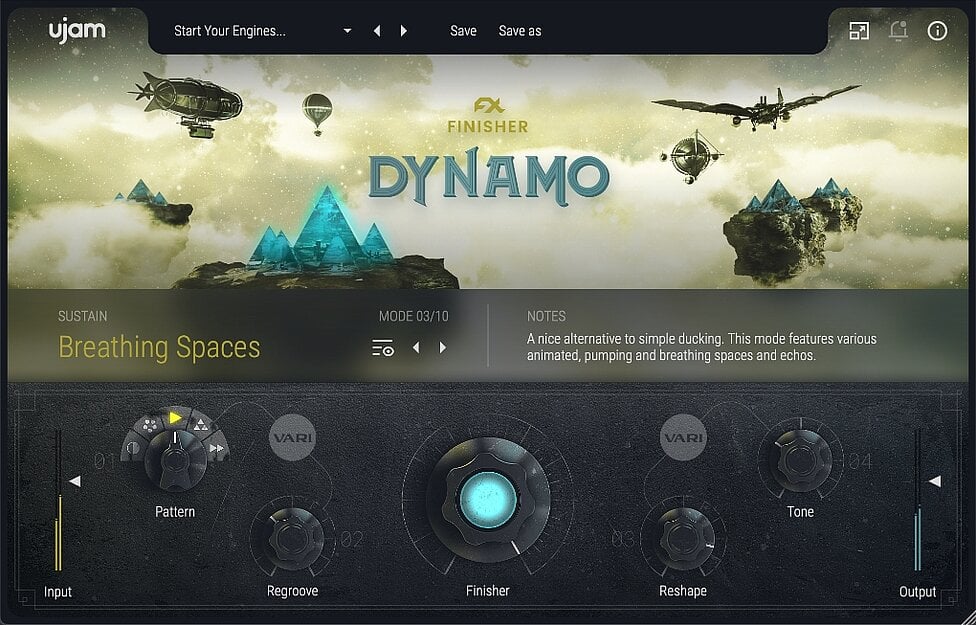 With Finisher DYNAMO you embark on a journey through animated soundscapes and surreal vibes beyond the realm of the ordinary. Every Finisher FX plug-in is designed to deliver the power and flexibility of a full rack of audio processors and effects with the instant gratification that UJAM products are famous for.
50 versatile multi-effect modes
290+ presets pre-categorized to maximize workflow and productivity
5-pattern rhythm selector, tone control and 2 variable FX controls
Available in VST, AAX, AU formats
Psychedelic, dreamy, surreal...
Listen to demo tracks created with Finisher DYNAMO.
Finisher DYNAMO comes with 50 carefully designed audio effect configurations built from 27 different algorithms – from Step Filters to Multiband Distortion, from simple Delays to Convolution Reverb and many more!

The five categories of Modes in DYNAMO were programmed with specific use-cases in mind. Just pick a preset from a category and fine-tune to your delight...
1. REMIX
Designed to be used on full tracks and mixes for immediate remixing potential

2. SOLO
Optimized for use on basses and other single-voiced sounds

3. RHYTHM
Optimized for use on drums and percussion

4. SUSTAIN
Optimized for use on pads and sounds that are rhythmically static

5. VOCAL
Generate vocal chops and glitches from your own vocal tracks
The happy accident machine
There's so much going on under the hood that it's often hard to predict what will happen when you turn a knob in DYNAMO. A huge part of its appeal!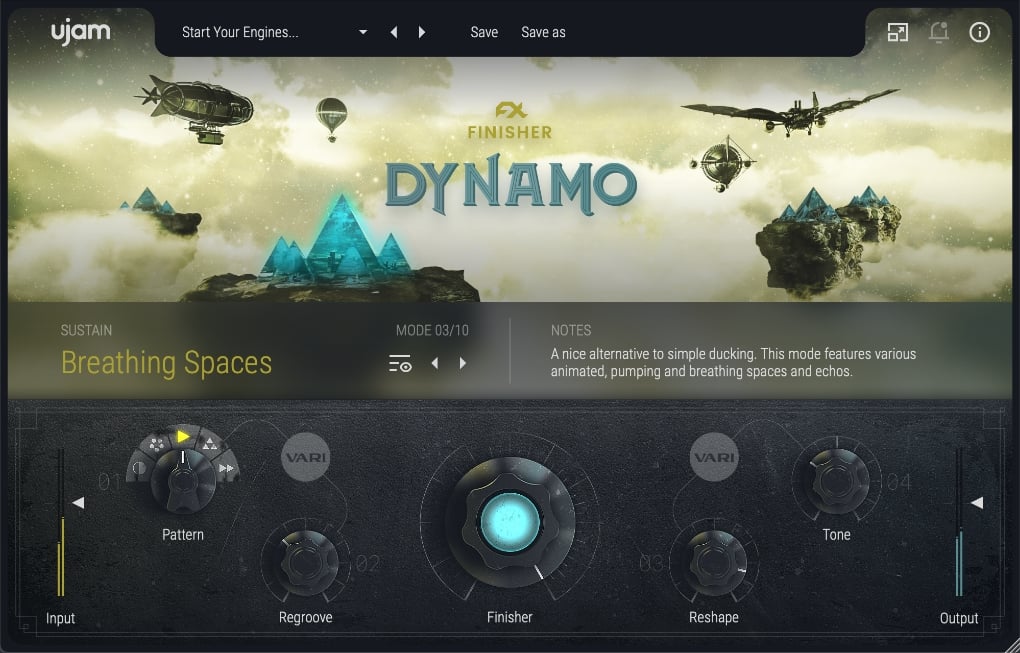 DYNAMO is all about moving sounds – here you can select a rhythmical pattern that best suits your production.
The Variation Knobs adjust musically useful aspects of the current Mode – e.g. switch modulation rates, set EQ characteristics, change distortion curves and much more, often at the same time!
We develop software solutions that enable people to create, consume and interact with music.