Hard & heavy chords and riffs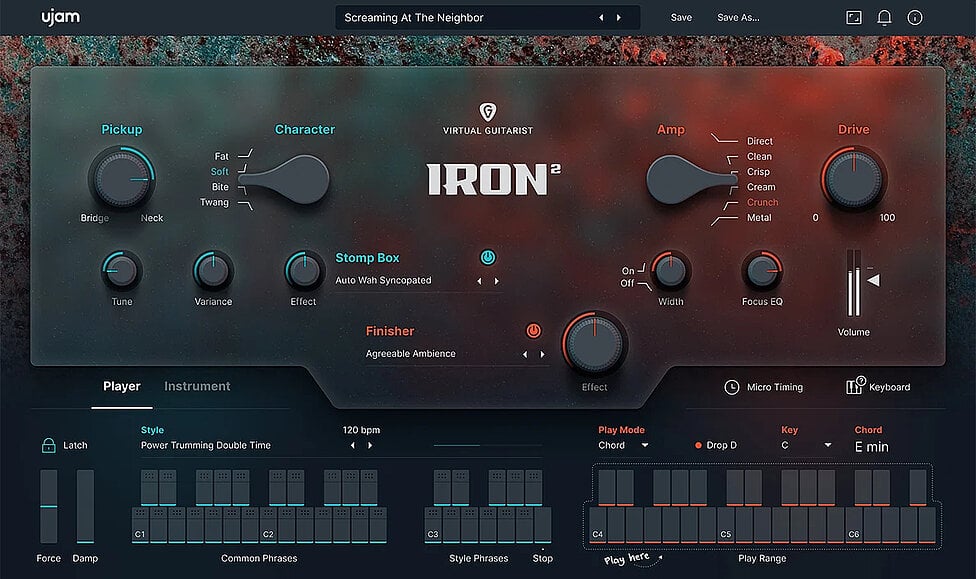 Brushed, polished and better than ever
Pay tribute to the gods of rock with roaring riffs and power chords with version 2.0 of IRON, our legendary Virtual Guitarist. Now completely overhauled and improved: Play your own riffs, choose from a selection of stomp box effects, and enjoy the entirely re-recorded samples and phrases.
No guitar skills necessary
IRON is suitable for all levels of music production experience. Seasoned musicians and composers will be impressed with its sound quality. Beginners will appreciate the frustration-free design speeding up workflows and enhancing the creative process.
NEW: Instrument mode,
freshly recorded samples and phrases
30 Styles,
over 350 Phrases
30 Stomp box emulations,
60 Finisher FX Modes
Drop D and doubling modes
for extra fatness
Program realistic rock guitar tracks in no time. Curious? Listen to some examples...
Perfect your tone with classic guitar stomp box effects including great-sounding wah, delay, chorus and reverb. Add the final polish with dedicated Finisher multi-FX.
With sounds ranging from the subtly distorted all the way to raging aggression, Virtual Guitarist IRON is a versatile beast, with over 350 unique phrases in 30 different styles featuring expertly sampled performances from a top session musician. For those that require the extra weight in their guitar parts Drop D tuning and doubling is also available.
IRON plays perfectly along with Virtual Bassist ROWDY and Virtual Drummer BRUTE. The awesome backline band for your hard-rocking songs.
With IRON's zero-headache interface, you will record great sounding tracks in no time.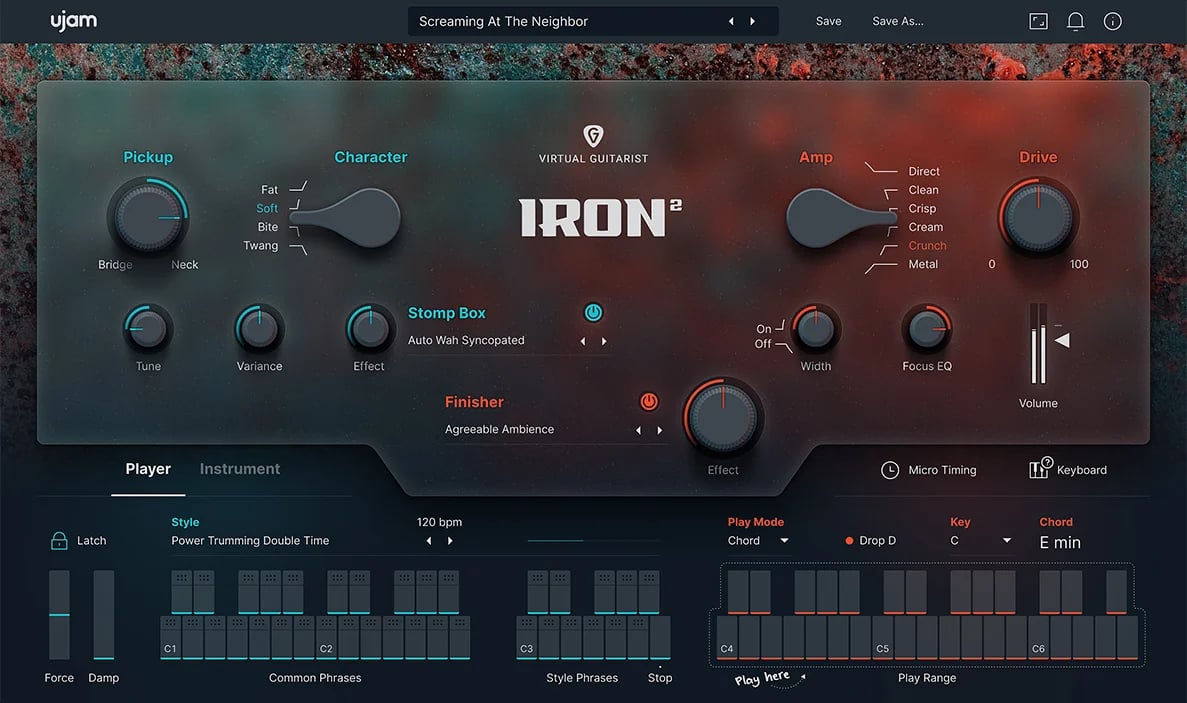 Choose one out of 30 different stomp box combinations. These effects are pre-amp, meaning that the amp and speaker section will dynamically react to your input.
Finally, also Virtual Guitarist gets a custom designed Finisher knob. Just pick one out of 60 multi-FX chains under the hood for amazing post-amp FX like e.g. ambiences.
We develop software solutions that enable people to create, consume and interact with music.