From Soft Pop Rock Ballads To Overdrive Grunge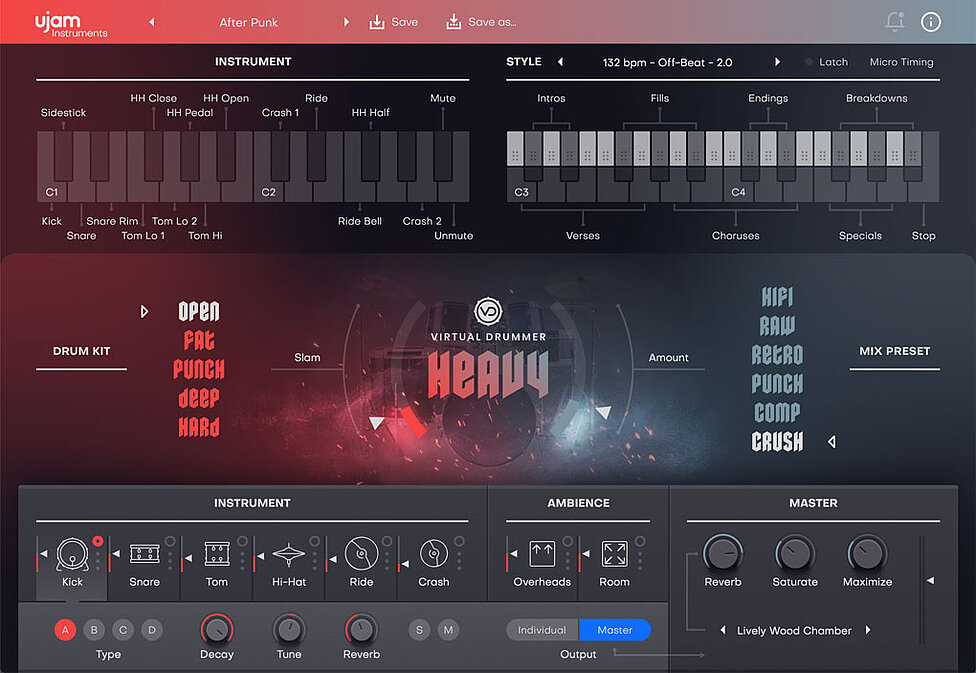 Virtual Drummer HEAVY is an authoritative, hard-hitting rock drummer, permanently set to beast mode! Always delivering what its name promises, HEAVY punishes the drums with relentless weight and energy behind each hit, driving your tracks forward and providing the perfect basis for all manner of rock, indie and grunge styles.
Drag-and-drop phrases to DAW for detailed note editing
Multi-outs for individual mixing in the DAW
30 new Styles with 650 new Grooves plus 100 Presets
Advanced kit editing, mixing and master sections
Virtual Drummer HEAVY is a forceful rock and indie specialist. For all genres from soft pop rock ballads to Seattle-style overdrive grunge, HEAVY adds a wide range of drumming styles and sounds in your production.
With over 30 different styles containing a total of 720 different phrases, creatives form all across the musical spectrum can enjoy the 5 meticulously recorded drum kits contained within.
As with every UJAM Instruments product, HEAVY benefits from our frustration-free design philosophy meaning anyone can use this product to make music faster, better and easier, regardless of their music production experience level. Just follow the simple controls on the user interface to easily trigger different styles and rhythmical phrases to use in your tracks.
Customization of the sound can be achieved with the custom FX algorithm 'Slam' and the six different character presets, allowing for a wide variety of tonal possibilities ranging from high fidelity to downright rude rock!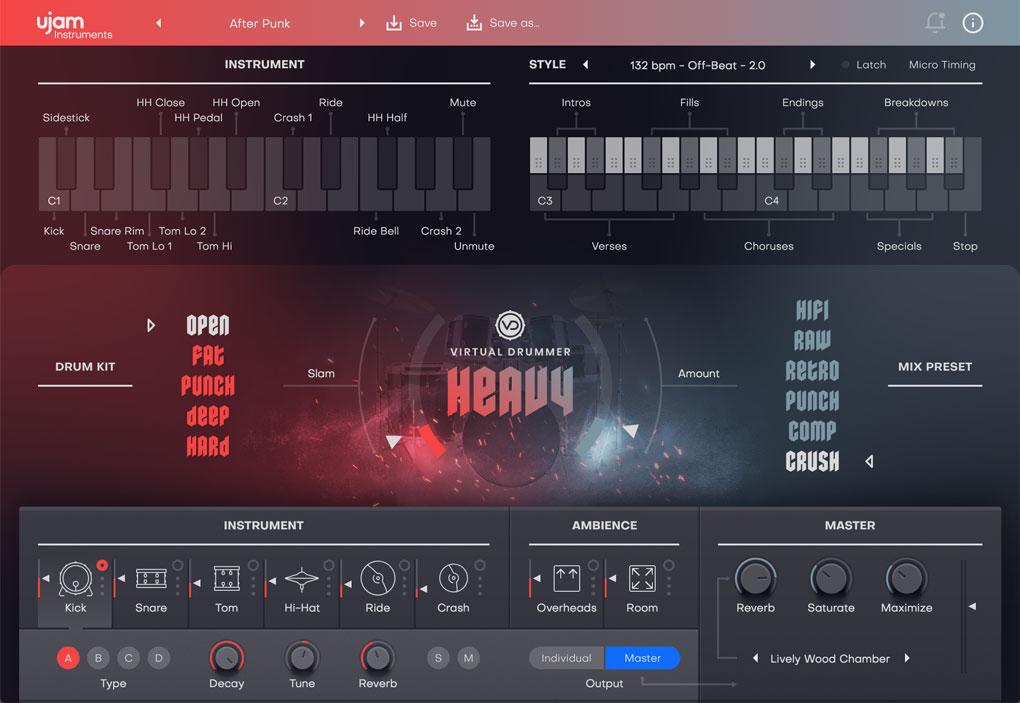 MIDI Drag And Drop
Export patterns to your DAW. Simply drag them from the on-screen-keyboard and drop them into your track.
Drum Kit
Five distinctive drum kits to choose from, all carefully crafted to fit into hard and heavy drum tracks.
Mix Section
Six mix presets to complete your sound, all put together by professional sound designers.
Instrument Channel
Mix and match instruments from up to four different types to create your own sound.
HEAVY allows individual volume control of each element of the drum kit meaning you can get your balance just right before adding the perfect amount of stadium-style reverb!
The drummer who is never late, unless you want them to be. Virtual Drummer HEAVY's additional 'performance tweaking' controls mean that you can make your drummer push or pull on the beat as well as become more loose or rigid when playing.
We develop software solutions that enable people to create, consume and interact with music.