Introducing the Virtual Pianist 1.1.0 Update
You asked, and we listened: Key advancements in our renowned plug-in series and the steps to harness their full potential
OCTOBER 6th, 2023
A Closer Look at the New Features and Improvements
Due to popular demand and consistent feedback from our dedicated user base, we're thrilled to announce the inclusion of the MIDI Out feature. For all those who've been ardently waiting for this game-changing update, here's a comprehensive breakdown of what you can expect in this update.
Feature Overview:
MIDI Out: MIDI-Out allows a plugin to send MIDI data to other software or hardware, enabling internal phrases to trigger external sounds or controls.
VST3 Support: In line with our commitment to compatibility and performance, the Virtual Pianist series now welcomes the VST3 plugin format.
VOGUE: Our update introduces the Chord Voicing feature, tried and tested in VIBE and SCORE. The Chord Voicing button enables you to innovate and experiment with different chord structures.
SCORE: We've rectified an issue with the MIDI Drag-and-Drop feature to ensure a smoother experience across different DAWs/platforms.
How to Make Use of MIDI Out in Your Production?
MIDI Out isn't just a technical feature; it's a transformative tool in the realm of music production. Here's how you can harness its full potential:
Layering Instruments: By routing your MIDI out from Virtual Pianist to various instrument tracks, you can layer multiple instruments to play in unison, creating richer textures and sounds.
Experiment with Sounds: MIDI Out allows you to use the phrases from Virtual Pianist to trigger sounds from other plugins. Try running piano phrases through a synth, or even a drum module, to explore unique rhythmic patterns and melodic structures.
Live Performances: In a live setting, MIDI Out can be a game-changer. Trigger multiple instruments on stage with ease, and ensure your performance setup is streamlined and efficient.
Dynamic Arrangements: By utilizing MIDI Out, you can quickly change the instrument being triggered without having to reprogram or adjust your MIDI data. This is especially useful when you're in the experimental phase of your production.
Learning and Training: For those learning music production, MIDI Out provides an opportunity to understand MIDI data's interaction with different instruments, helping to grasp the nuances of sound design and synthesis.
Remember, the key is to experiment and explore. The more you play around with MIDI Out, the more you'll discover its vast potential!
Unveiling the VST3 Enhancements in the Virtual Pianist Series
The VST3 format introduces a series of enhancements that significantly elevate user experience. Let's dive deeper into why VST3 might soon be your plugin format of choice for the Virtual Pianist series:
VST3 plugins are tailored for efficiency, using CPU only when active, a major shift from the "always on" nature of traditional VSTs. This allows for a more extensive plugin range without compromising performance. It brings remarkable precision, boasting sample-accurate automation, perfect for nuanced track dynamics. MIDI management is revolutionized, offering both detailed control and intuitive handling, even assigning unique IDs to notes. The simultaneous support for multiple MIDI inputs and outputs, coupled with the flexibility to process both MIDI and audio data, breaks past limitations. Moreover, VST3's ability to adapt to diverse channel configurations ensures fluidity in audio routing. Topping it off, its resizable windows enhance workflow, emphasizing that even small improvements can significantly elevate the production experience.
In essence, the shift to VST3 with the Virtual Pianist series ensures a smoother, more efficient, and feature-rich production experience. Embrace the future, and let your creativity soar!
Chord Voicing in VOGUE
UJAM is proud to unveil the Chord Voicing capability for VOGUE, mirroring the capabilities of SCORE and VIBE. This enhancement allows users to choose between:
Simplified Voicing: Basic triads for a clean sound.
Universal Voicing: A richer, standard pianist touch.
Complex Voicing: For those desiring a sophisticated flair in their music.
Select a key in VOGUE, tap into these modes, and let the virtual pianist work its magic!
Fixed in SCORE
We're always striving to enhance your experience with our tools. In response to user feedback, we've addressed and rectified the MIDI drag-and-drop issue in SCORE. Now, you can seamlessly drag out MIDI without any hitches. We appreciate your patience and are committed to ensuring the smoothest workflow for all our users. While we continually work on refining and fixing any minor issues, our focus remains on delivering top-notch features and functionalities.
How To Setup MIDI Out in your DAW?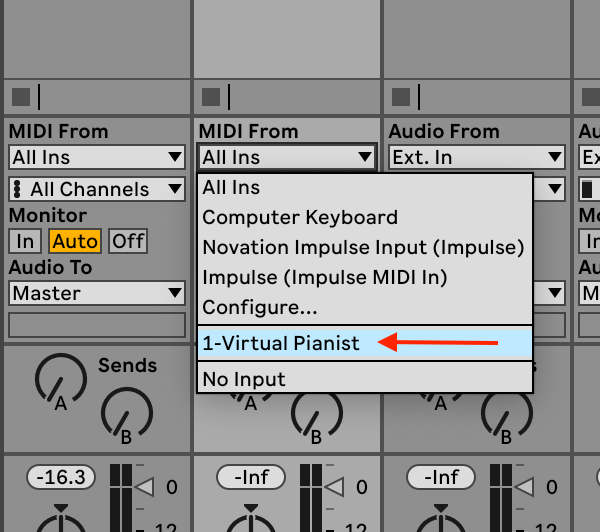 Ableton Live
1. Load target instrument on separate MIDI track
2. In track view, select the Virtual Pianist track under 'MIDI Form' dropdown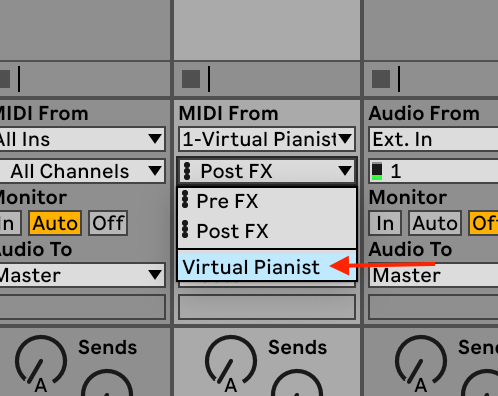 3. From the second dropdown, select Virtual Pianist again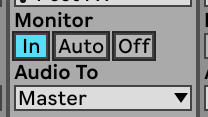 4. Finally, set 'Monitor' to 'In'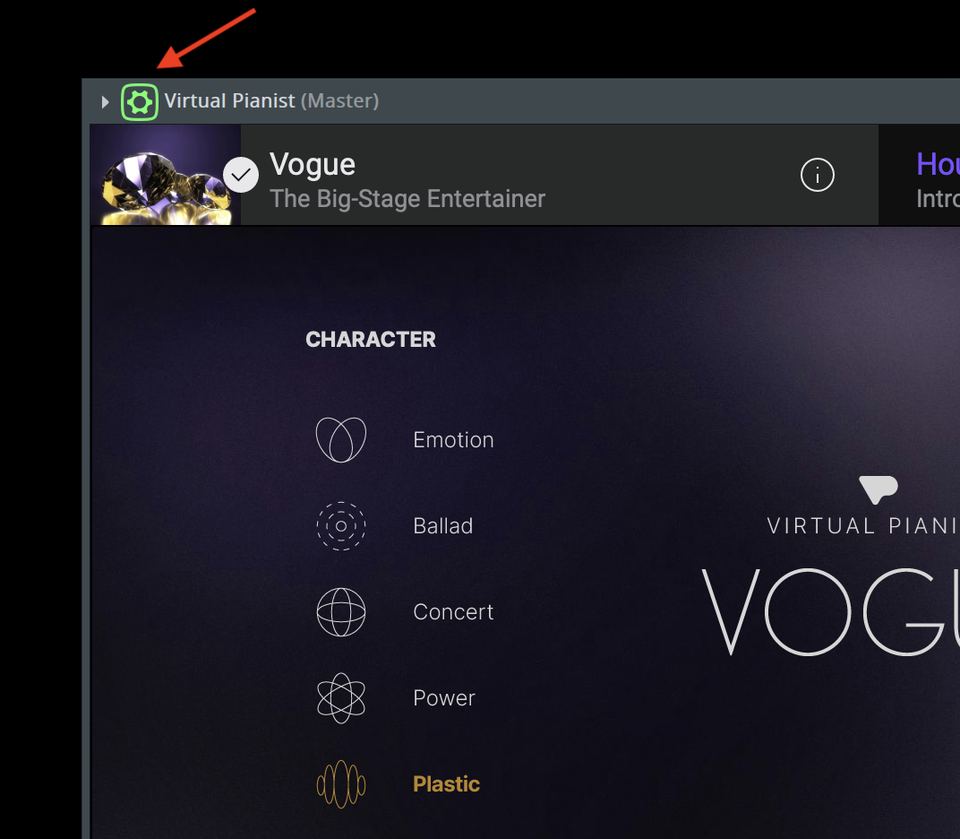 FL Studio
1. Turn off the volume of Virtual Pianist
2. Click on the "Settings" icon in the top bar of the Virtual Pianist frame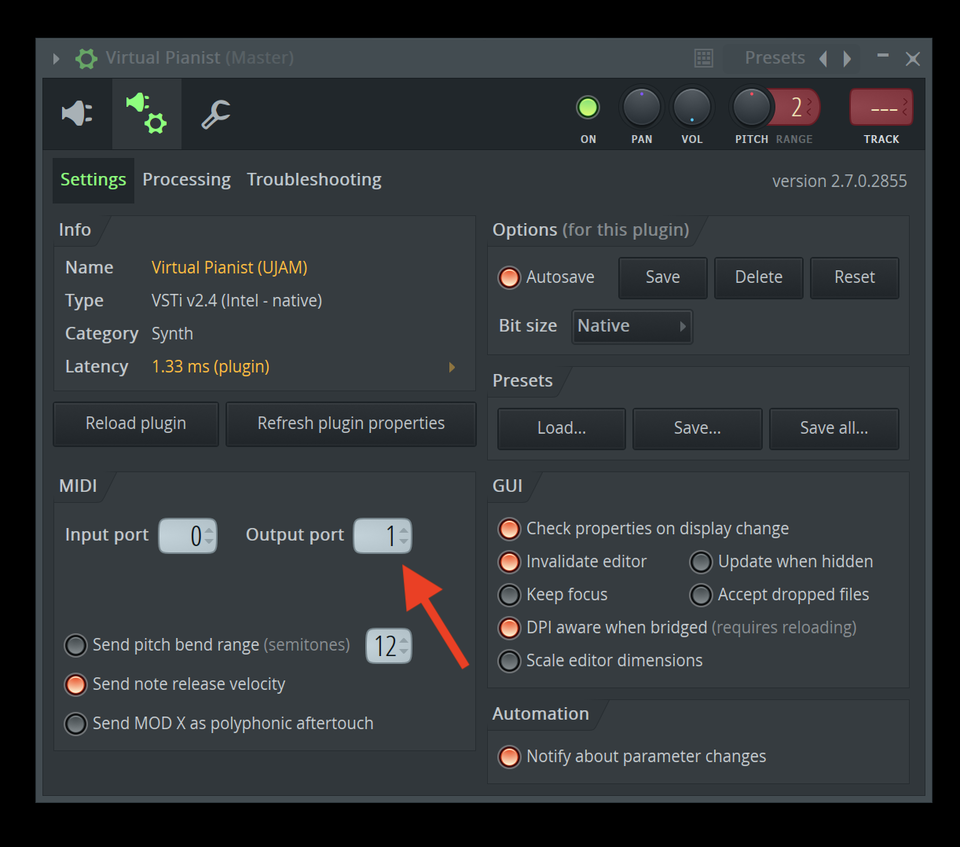 3. Route the MIDI Output port to channel "1"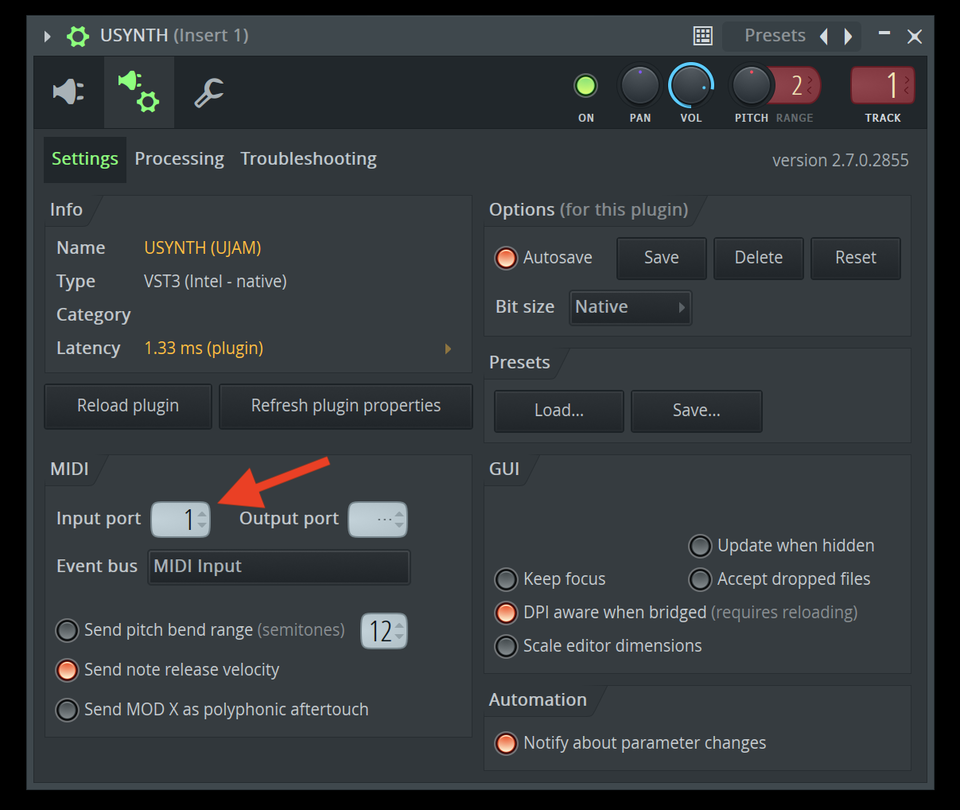 4. Click on the "Settings" icon in the top bar of the target instrument
5. Route the MIDI Input to channel "1"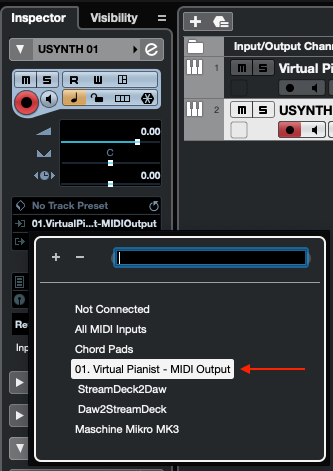 Cubase
Load target instrument on a separate MIDI track
In the inspector, select the Virtual Pianist - MIDI Output track under the 'MIDI Input' dropdown.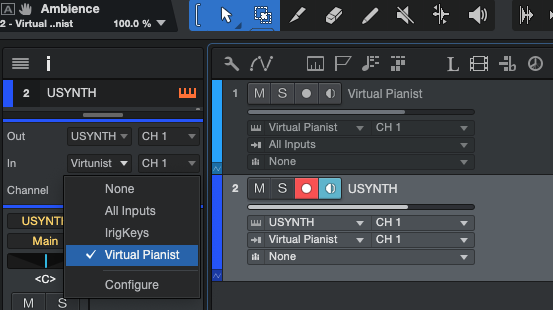 Studio One
1. Load Virtual Pianist & Target Instrument on individual MIDI tracks
2. Select Virtual Pianist as your input on the target instrument in the track inspector or overlay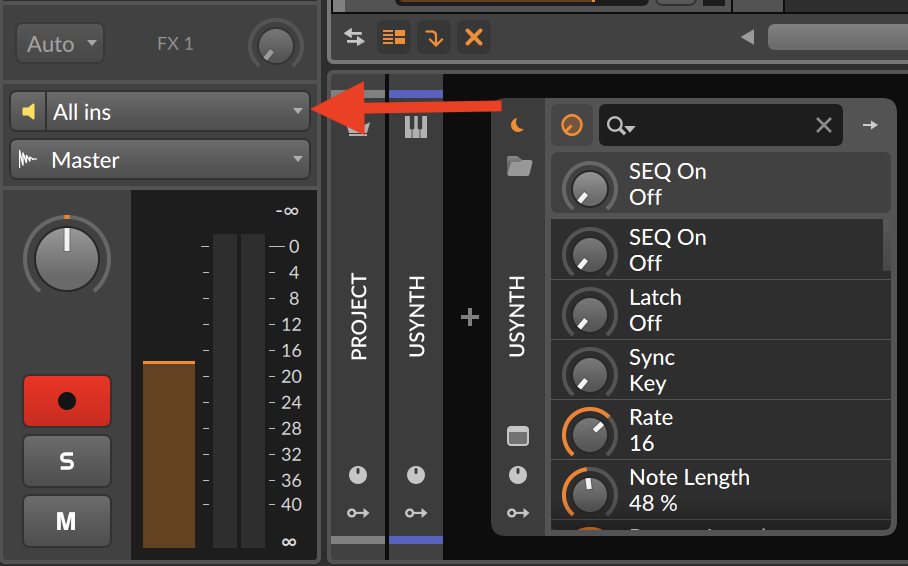 Bitwig
1. Load Virtual Pianist & Target Instrument on a separate MIDI track
2. Click on "All Inputs"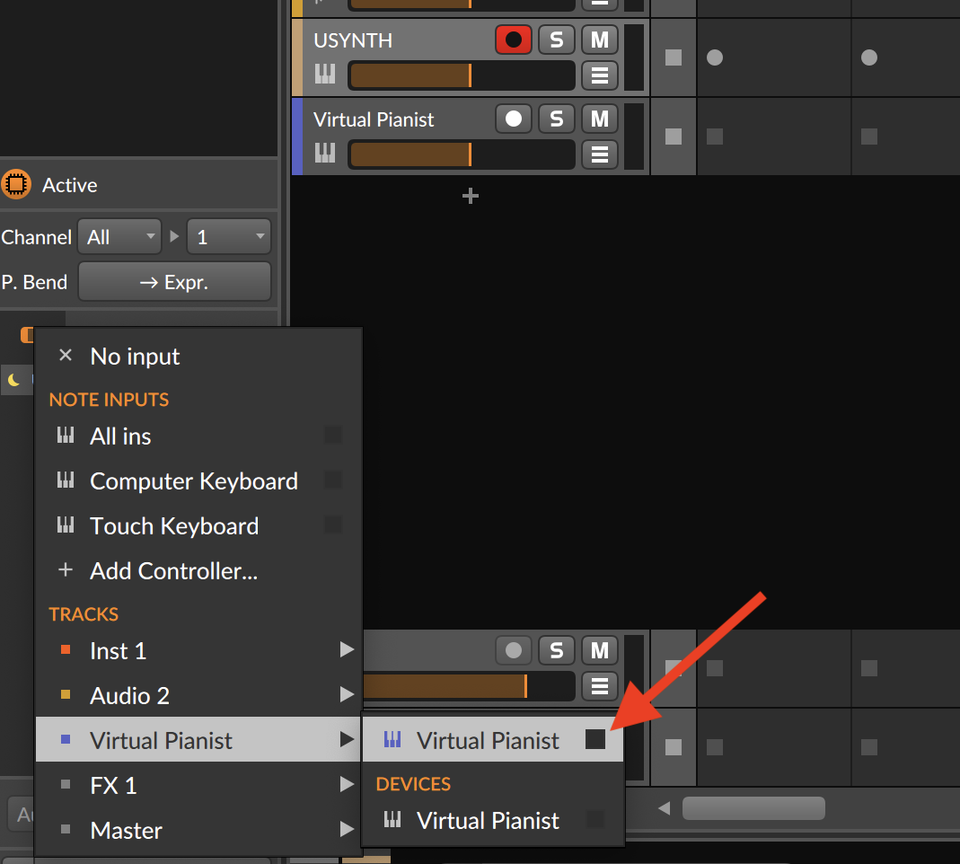 3. Select the Virtual Pianist as your input on the target instrument
*Please note that MIDI Out is not supported by Apple Logic Pro X*
Wrapping up
At UJAM, we believe in evolution powered by feedback. The Virtual Pianist 1.1.0 Update is a testament to our commitment to community-driven development. As you explore these new features, remember that this journey of enhancement and refinement is an ongoing one, and we're always eager to hear your thoughts. If you have any questions about compatibility, take a look here or feel free to reach out via the chat window at the bottom right on our website and we'll be happy to help.
If you're already part of the UJAM family, ensure you're using the latest versions to leverage all these optimizations.
We develop software solutions that enable people to create, consume and interact with music.