UJAM Release Beatmaker GLORY
Beatmaker GLORY is a virtual drum machine for genres like trap and modern hip hop, available now for $/€ 49 instead of $/€ 69 until June 13th.
JUNE 3RD, 2021
UJAM launch GLORY the ninth addition to their Beatmaker line. It is the virtual beat maker for all kinds of trap and modern hip-hop: where 808-kick drums meet hi-hats at the top of the billboard charts – simply put, the angry equivalent to KANDY. The drums are carefully sound designed to give users that production-value-feel right out of the box.
GLORY adds to the Beatmaker series including NEMESIS (cyberpunk beats), KANDY (billboard charts pop), HYPE (progressive house), EDEN 2 (HYPE's EDM sister), DOPE 2 (90s hip hop), HUSTLE 2 (trap & grime), VICE (80s synthwave) and VOID (drum & bass).
GLORY is available now in VST, AU 2 and AAX formats also as a free, fully functional 30-day trial at ujam.com.
20 styles, 60 presets
10 drum kits, 460 patterns
MIDI Drag and Drop
Special control: Bass Tune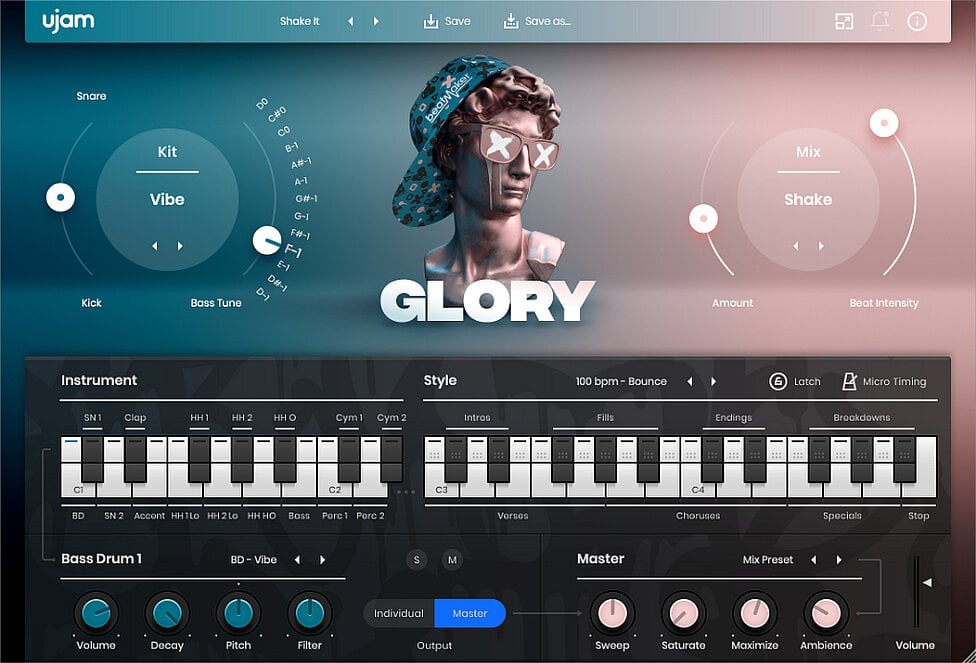 GLORY is now available at ujam.com for an introductory offer of 49 EUR / USD, owners of any Beatmaker get a special loyalty offer of 29 EUR / USD until June 13th. After that, the plug-in sells for 69 EUR / USD.
The bundle of nine Beatmakers including GLORY, NEMESIS, KANDY, HYPE, EDEN 2, DOPE 2, HUSTLE 2, VICE and VOID is available for 389 EUR / USD (instead of 621 EUR / USD for the single products).
All Beatmaker plug-ins can be downloaded in VST, AU 2, and AAX formats for any compatible DAW, including Logic, Garageband, Cubase, Ableton Live, Pro Tools, FL Studio and Studio One. Free, fully functional 30-day trials are available.
About UJAM
UJAM is a German-American maker of music technology co-founded by Hans Zimmer and Pharrell Williams that develops Virtual Instrument and Effects Plug-ins. With the Plug-in series Virtual Pianist, Usynth, Groovemate, Symphonic Elements, Virtual Guitarist, Virtual Bassist, Virtual Drummer, Beatmaker and Finisher and a range of software solutions (desktop, mobile, web), UJAM helps people to make music.
We develop software solutions that enable people to create, consume and interact with music.