Out Now: Virtual Drummer LEGEND
Introducing UJAM's new Virtual Drummer LEGEND: Your '70s Drum Champion for a Dry Vintage Aesthetic
OCTOBER 25th, 2023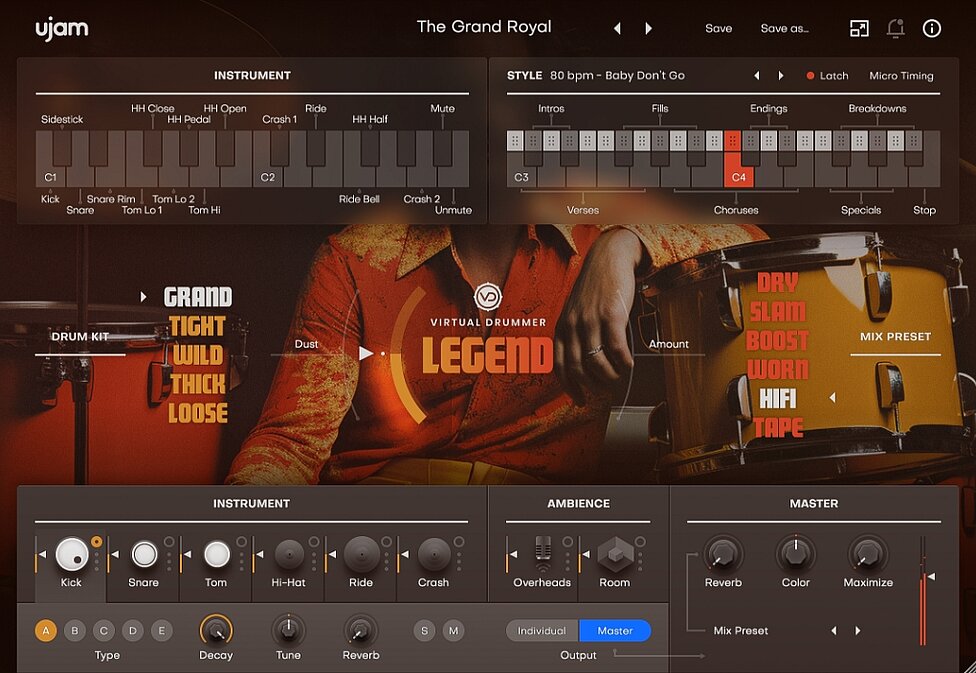 In the world of music production, there's nothing quite like the timeless allure of the '70s. It's an era celebrated for its distinctive drum sound, and now, you can bring that iconic vibe to your music with LEGEND.
Step into the studio of '70s icons who pioneered the dry drum sound. LEGEND is your gateway to that punchy, warm, and retro feel that cuts through mixes. Whether you're crafting varnished beats or raw jams, LEGEND is the tool that empowers your creativity.
Nostalgia is the key to standing out in the music scene, whether you're an indie rockstar or a retro mastermind. LEGEND's naturalistic impact is touching, and you can feel it in every beat you produce. Engineers of the past refined their rhythm sections with close mics on deadened drum heads and dampening techniques. LEGEND faithfully emulates these classic tactical strategies.
Virtual Drummer LEGEND contains the following features:
690 playable MIDI phrases in various styles
MIDI Drag-and-Drop and direct MIDI out for custom tweaking
5 Drum Kits with 6 Mix Preset aesthetics to fine-tune your sound
Special 'Dust' and 'Color' FX controls to alter miking technique
Clean, tight drums are the gold standard for experimental production. With LEGEND's upfront, direct recorded sounds, you have the canvas to absorb additional processing and make them entirely your own.
Virtual Drummer LEGEND is available now in VST2, VST3, AU 2 and AAX formats today and also as a free fully functional 30-day trial at ujam.com. Don't miss this opportunity to add the magic of the '70s to your productions.

It also runs natively on Apple Silicon systems.
Pricing and availability
Virtual Drummer LEGEND is now available at ujam.com for 69 EUR / USD Intro Price and 49 EUR / USD Loyalty Price. The Bundle is available for 369 EUR / USD, including all seven Drummer titles (SOLID, HEAVY, PHAT, DEEP, BRUTE, HOT, LEGEND). Virtual Drummer LEGEND is currently available in VST 3, VST 2, AU 2 and AAX formats for all major DAWs.
About UJAM
UJAM is a German-American maker of music technology co-founded by Hans Zimmer and Pharrell Williams that develops Virtual Instrument and Effects Plug-ins. With the Plug-in series Virtual Pianist, Usynth, Groovemate, Symphonic Elements, Virtual Guitarist, Virtual Bassist, Virtual Drummer, Beatmaker and Finisher and a range of software solutions (desktop, mobile, web), UJAM helps people to make music.
We develop software solutions that enable people to create, consume and interact with music.