Get to know the new addition of UJAM's innovative synthesizers series: PIXEL - a Usynth that takes you back to the days of the classic game consoles of the 80s and 90s.
SEPTEMBER 20th, 2023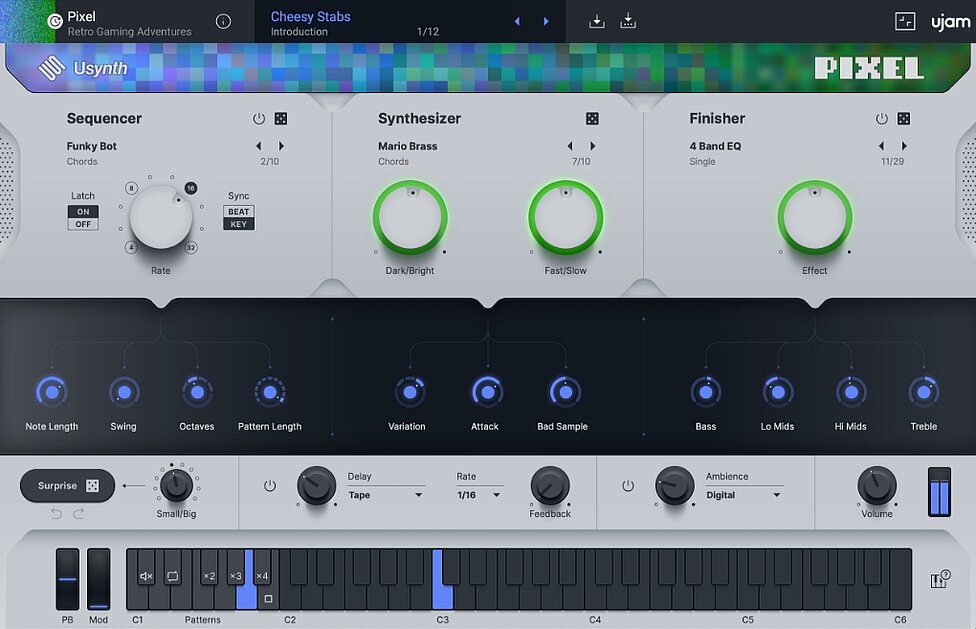 Dive into a world of endless sonic possibilities with Usynth PIXEL, which boasts a vast palette of sounds from rich bass tones to enchanting chords, captivating melodies, and even vintage arcade-inspired sound effects. Notably, it doesn't stop there; you can also create drum patterns that evoke the unmistakable charm of pixelated gaming.

Bid farewell to the painstaking process of entering hex data for a 3-track song and welcome the luxury of utilizing filters, effects, and an array of sophisticated features powered by the formidable Usynth engine.
In the words of Peter Gorges, one of the creators behind Usynth PIXEL:
"At UJAM, many of us are passionate gamers who hold a deep appreciation for the iconic soundtracks of the 90s, from classics like Tekken and Donkey Kong to Monkey Island and Zelda. These soundtracks continue to be performed live by orchestras worldwide, and the composers behind them are revered as true legends. Fortunately for both us and our users, we had the privilege of collaborating with one of these legends, the brilliant David Wise. Together, we've crafted Usynth PIXEL, a musical tool that allows you to infuse your compositions with the distinctive essence of a 90s video game console."
Usynth PIXEL offers, similarly to the other Usynth titles, an arsenal of 100 Synth Modes, 90 Finisher Modes, 25 Sequences, and 100 Global Presets. To make this accessible to everyone, we are pleased to provide a free 30-day trial without limitations, ensuring that you can explore the full potential of Usynth PIXEL before making a commitment.
Usynth PIXEL is your passport to a musical journey through time. Rediscover the magic of vintage gaming soundscapes, unleash your creativity, and embark on musical adventures that pay homage to the cherished era of 8-bit & 16-bit nostalgia.
Usynth PIXEL contains the following features:
Retro game multi-synthesis engine
100 Synthesizer Presets
100 Global Presets
30 versatile Sequencer Presets with 180 phrases
Pricing and availability
Usynth PIXEL is now available at ujam.com for 79 EUR / USD. The Bundle is available for 299 EUR / USD, including all eight Usynth titles (PIXEL, GLAM, DRIVE, DELUXE, CORE, EUPHORIA, CARAMEL and 2080). Usynth is currently available in VST 2, AU 2 and AAX formats for all major DAWs.
About UJAM
UJAM is a German-American maker of music technology co-founded by Hans Zimmer and Pharrell Williams that develops Virtual Instrument and Effects Plug-ins. With the Plug-in series Virtual Pianist, Usynth, Groovemate, Symphonic Elements, Virtual Guitarist, Virtual Bassist, Virtual Drummer, Beatmaker and Finisher and a range of software solutions (desktop, mobile, web), UJAM helps people to make music.
We develop software solutions that enable people to create, consume and interact with music.