Instant old school flavors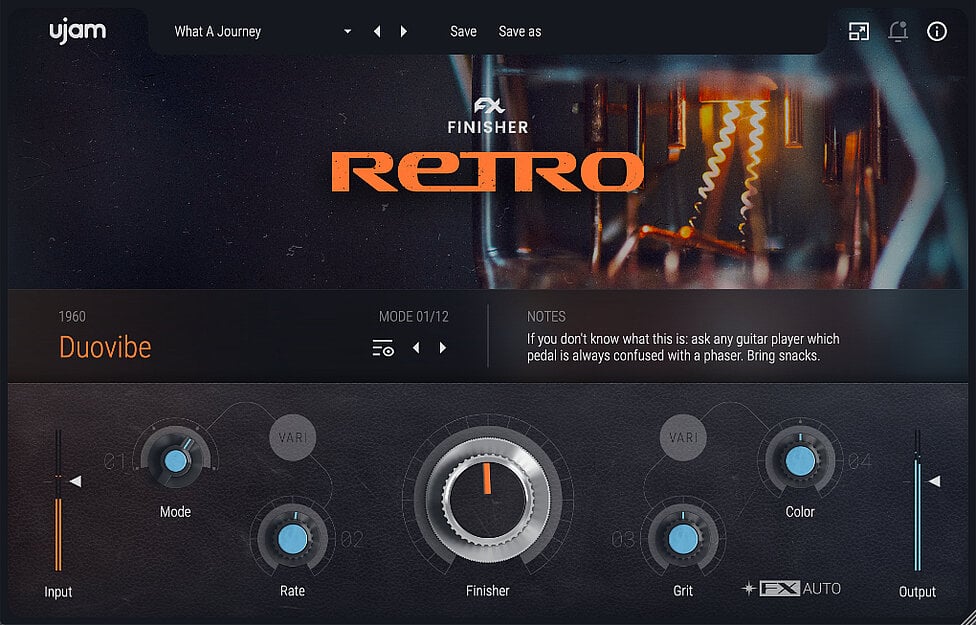 Rediscovering glorious tones
Do you ever play classic records and think "That. Sounds. GREAT! How do I get that 60s (or 70/80/90s) vibe in my track?" With Finisher RETRO, it's easy. Our experts have done the hard work and captured the classic reverbs, delays, flangers, tubes, tape hiss and magic for you. Just load RETRO and go!
RETRO is so much more than just one effect. Each of its modes is a web of up to 20 interconnected sound modules. It's like having a huge pedal board AND rack of studio gear with everything set just right.
Like Instagram filters for your audio.
50 modes presented in decades, from 60-90s.
100 individual presets created from the modes.
FINISHER and VARI knobs for fast, easy tweaking.
Rage against the dull sounds!
Hear how Finisher RETRO can inject some life and character into super clean (a.k.a. "kinda' boring") recordings.
Sound by Era: 60s, 70s, 80s or 90s. You Pick!
Finisher RETRO's modes are presented in decades, from 60s, 70s, 80s or 90s. Each mode is carefully crafted by our sound designers to give you an authentic snapshot of a great sound from that decade.
Don't worry, you're never stuck with RETRO's presets. The FINISHER and VARI knobs let you easily push each preset in different directions from "light and subtle hint" to "laying it on real thick!"
See Finisher RETRO in action and try not to be inspired
by all the groovy and rad sounds. Go on!
We double dog dare you!
Get to know the Finisher RETRO features.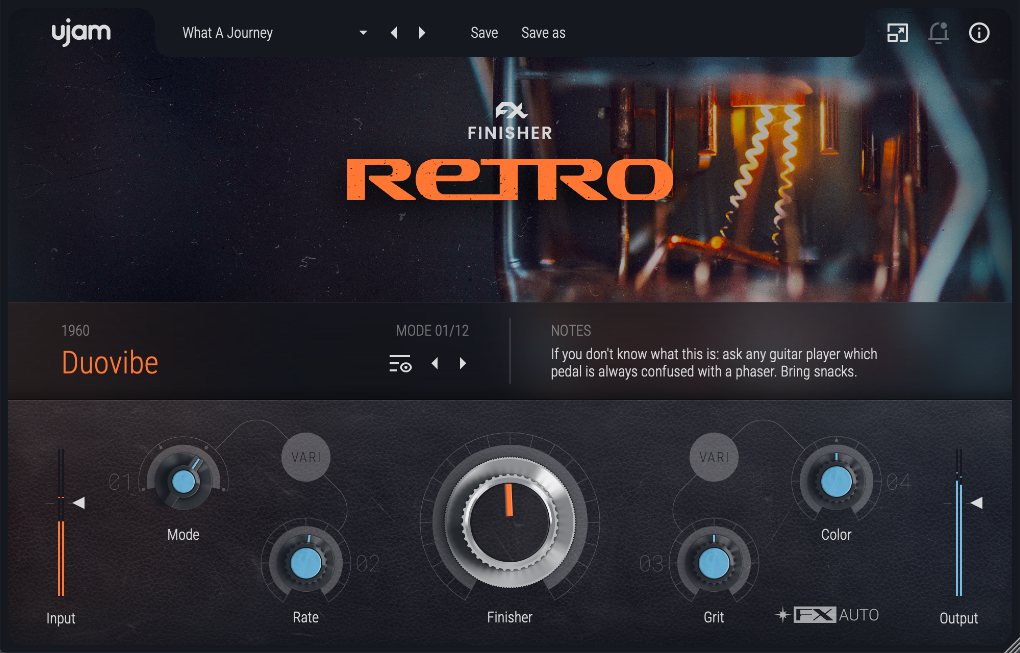 Super-Simple User Interface
Create your music without overthinking! Pick any inspiring preset and get to work instantly.
Our infamous FINISHER knob
Presets have dozens of processors under the hood, but it's all controlled with one glorious knob.