Smooth & noble fingered electric bass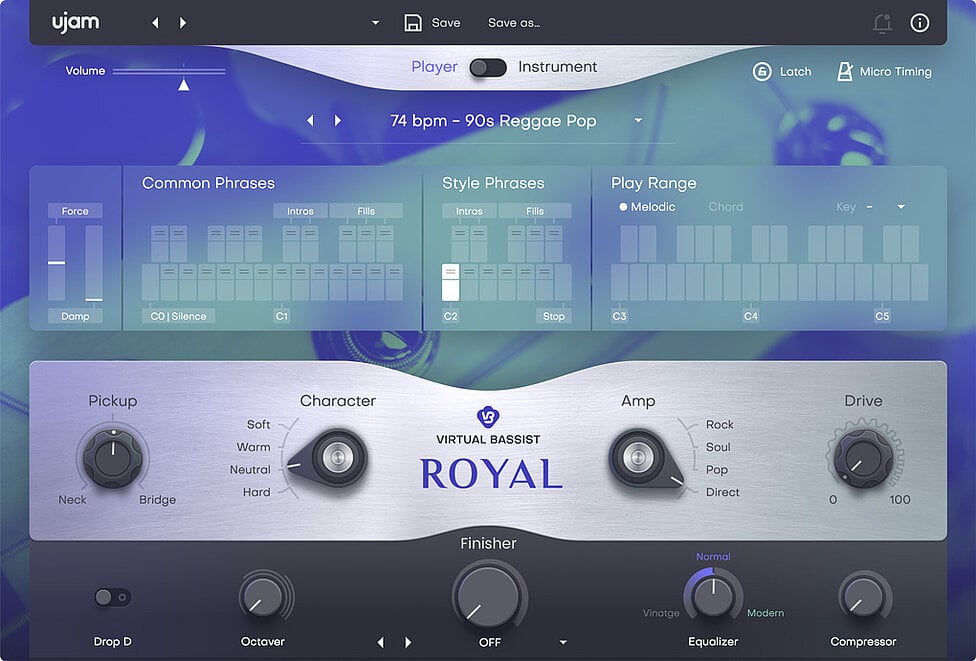 The A-list Bassist for Glossy Chart Breakers
Virtual Bassist ROYAL is your all-round high-end session bass professional – always primed to reliably and effortlessly underpin most styles of popular music with its rounded electric fingerstyle tones. Perfect for pop, ready to rock, impressive on indie and smooth on singer/songwriter material.
20 new styles and 30 new presets
15 Finisher multi-effect modes
DAW quantization and UI resizing
Distinct and professional electric bass
60 styles and 1380 phrases
Powerful-yet-simple sound shaping options
Artificially intelligent articulation modeling
ROYAL plays well in any musical style, but particularly acoustic and electronic songs, bands and arrangements. From a super-soft round tone for ballads to enough edge and drive to support a good rock song – ROYAL provides a wide-range of studio bass styles.
High-end Professional, Low-end Satisfaction
Virtual Bassist ROYAL – it starts with a hand-selected vintage electric bass, modified with the best electronics money can buy, played by a seasoned pro. Integrated into a virtual instrument adding realism, behavior and a player who knows his stuff. Plus exactly the amps and effects that make a truly great sound.
ROYAL really is suitable for anyone who wants to create great sounding bass guitar tracks regardless of their music productions skill level. The fail-proof controls within the Virtual Bassist series and all UJAM plug-ins ensure that beginners can quickly and easily get end results that will never be musically or technically wrong – without sacrificing creative freedom.
The versatile nature and range of exceptional, authentic sounds within ROYAL mean that even seasoned bass players themselves will appreciate the ability to get great sounding ideas down fast – with practically zero learning curve.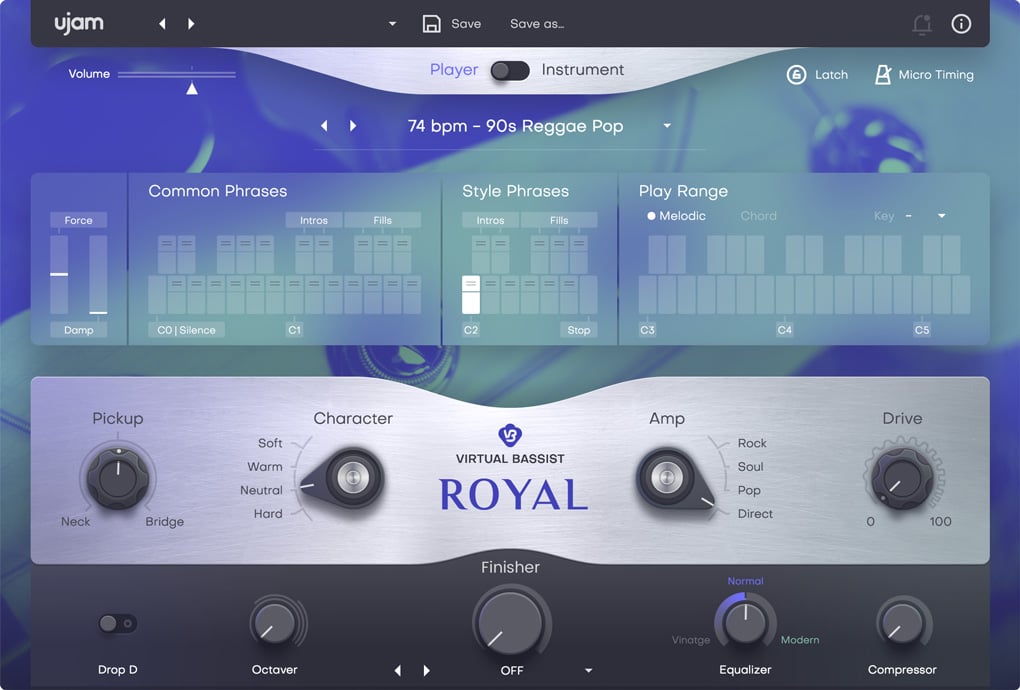 Virtual Bassist ROYAL has two distinct modes – Firstly there's the Player Mode, with its instant access to 60 styles and 1380 phrases via simple MIDI key commands. The smart technology behind the Virtual Bassist series means that not only will ROYAL automatically follow the key and chord you play, it will also intelligently select the most musical bass acticulations available to support your tracks.


For those with keyboard skills and an adventurous spirit, our brand-new Instrument Mode will let you access the full span of our meticulously sampled bass-guitar with your midi controller allowing for greater creative expression including adding dead notes, full stops and even slides.
The versality of Virtual Bassist ROYAL is further compounded with its powerful, yet simple sound shaping option. Quickly choose from a variety of tone altering amps and effects before dialing in the right character and tweaking the EQ and dynamics to suit your song in a flash.
PreSonus Chord and Key Track
With the new Virtual Bassist 2.1 update we will provide Studio One users running on version 4.6.2 or later with an exclusive PreSonus chord and key track feature! Descriptions of styles and phrases are displayed on the piano roll to help you find the right styles and phrases faster and easier for your track.The new chord track feature in Studio One automatically follows the chords and automatically changes the MIDI notes for you.