Beats like your fave idols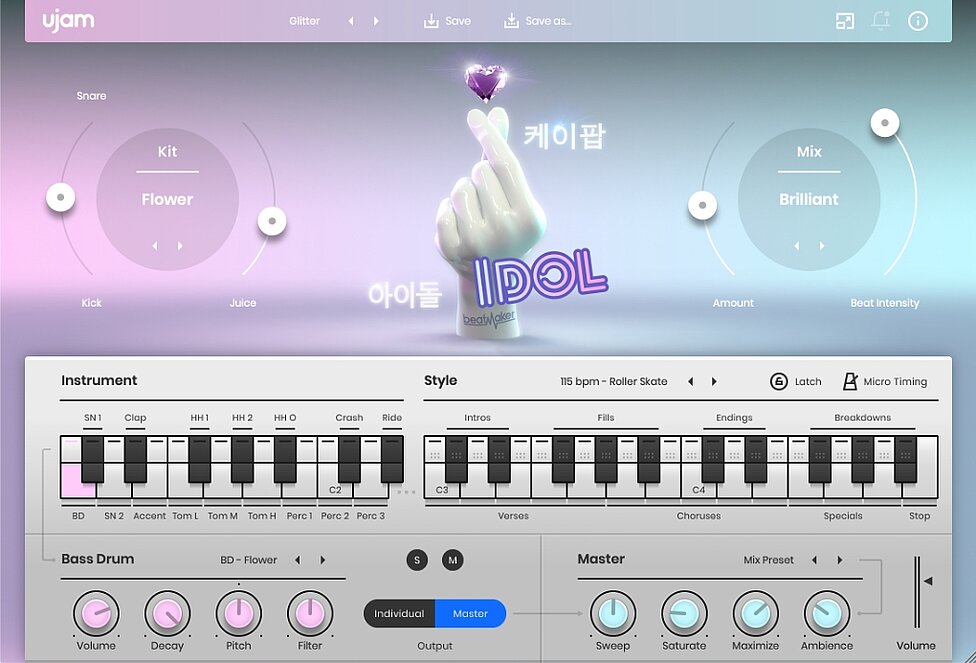 IDOL puts the bright and hyper-processed sound of K-Pop beats in your hands. Keep the good feels coming with clean and polished drum samples, making beats just like the ones in countless chart-topping Korean pop songs!
10 drum kits, 460 patterns
Special control: Juice algorithm
K-Pop is a very bright, polished genre, with thumping kicks and snares that pop. Its high end glisten and tight low end are carefully compressed to hit hard using influences from hip hop, R&B, American/Euro pop and traditional Korean instruments!
Take the precision and hyper-compression of pop music and dial it up to 11. Carefully trim the tail of every sample and keep the releases tight. Editing samples to get the perfect K-Pop sound can take hours — with IDOL, everything's already done for you!
K-Pop is influenced by rhythms from around the world, so it's impossible to define it by only one sound. That's why IDOL gives you 4-to-the-floor kicks, chaotic breakbeats, rolled trap hi hats and more — all with the same larger-than-life production style.
IDOL is streamlined to get you producing K-Pop beats in seconds, whether you use the presets as-is or tweak the MIDI grooves to create your own patterns. It instantly syncs to your DAW's tempo, and you can quickly test different rhythms.
The proprietary Juice control punches up the lows and highs with multiband compression and EQ for a clean, dramatic sound, with a gentle stereo spread to neatly tie everything together and add some excitement.
IDOL features 10 kits with 16 drum instruments each. There are 20 Styles with 23 ready-made patterns each, for a total of 460 patterns. Choose from 12 Mix settings and boost the Amount knob until you smack it the perfect amount!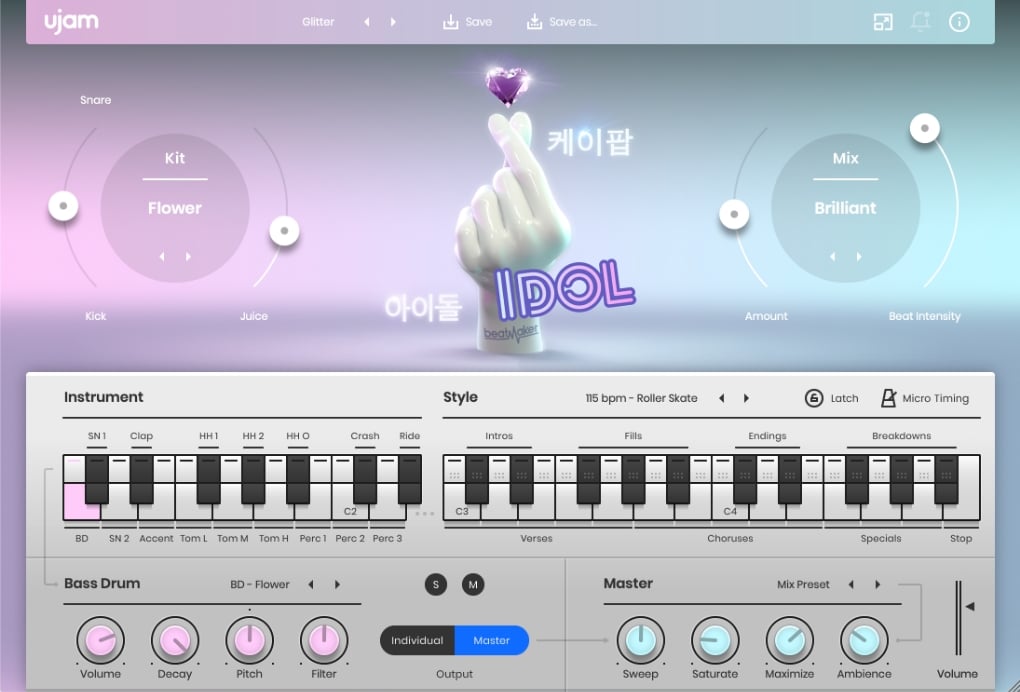 IDOL's clean and simple interface makes it easy to create polished K-Pop drums in moments. Pick a Mix Preset and tweak it until your drums sit perfectly in your mix.
Export IDOL's MIDI loops into your DAW directly from the plugin's on-screen keyboard, then edit them to your heart's content.