Out Now: Usynth GLAM by UJAM
Get to know the new plug-in of UJAM's innovative synthesizers series: GLAM. A Usynth for pop music that goes straight to the pleasure centers.
APRIL 26TH, 2023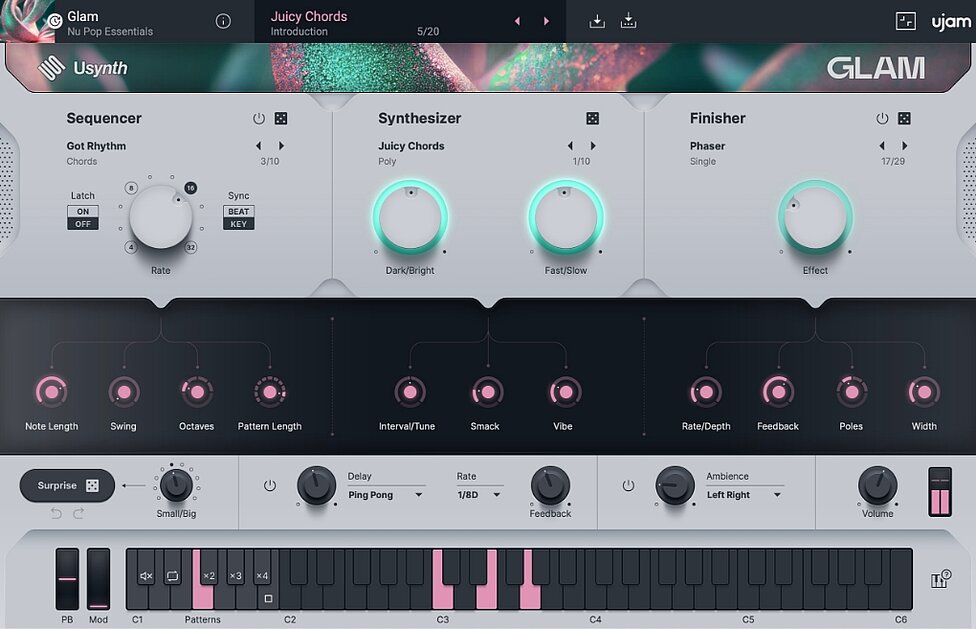 German-American plug-in maker UJAM is proud to announce the release of Usynth GLAM, the company's seventh addition to their Usynth line of innovative synthesizers. Designed with musicians in mind Usynth enables users to make synthesizer sounds their own with simple, yet powerful tweaking options.
The manufacturer of plug-ins like Symphonic Elements BRAAASS or Virtual Guitarist IRON 2 recently released the free yet fully functional Usynth DRIVE, which puts "Powerful House Essentials" into the hands of music creators worldwide. UJAM's first three Usynth titles EUPHORIA (Electronic Dance Staples), CARAMEL (Buttery, Sweet and Warm), and 2080 (Future Retro Waves) are also available in the Bundle of seven synthesizers. The Bundle is completed by CORE (All-Purpose Studio Essentials) and DELUXE (Vibrant Soul Keys).
Usynth GLAM gives musicians the pristine sheen that only money can buy, from home. It's got the basses, pads, polys, leads and hooks.
GLAM comes with a similar feature set like UJAM's other Usynth titles, including 100 Synth Modes, 90 Finisher Modes, 25 Sequences and 100 global Presets. A free 30 Days trial without limitations is available immediately!
Pricing and availability
Usynth GLAM is now available at ujam.com for 79 EUR / USD. The Bundle is available for 279 EUR / USD, including all seven Usynth titles (GLAM, DRIVE, DELUXE, CORE, EUPHORIA, CARAMEL and 2080). Usynth is currently available in VST 2, AU 2 and AAX formats for all major DAWs.
About UJAM
UJAM is a German-American maker of music technology co-founded by Hans Zimmer and Pharrell Williams that develops Virtual Instrument and Effects Plug-ins. With the Plug-in series Virtual Pianist, Usynth, Groovemate, Symphonic Elements, Virtual Guitarist, Virtual Bassist, Virtual Drummer, Beatmaker and Finisher and a range of software solutions (desktop, mobile, web), UJAM helps people to make music.
We develop software solutions that enable people to create, consume and interact with music.