To relax and study to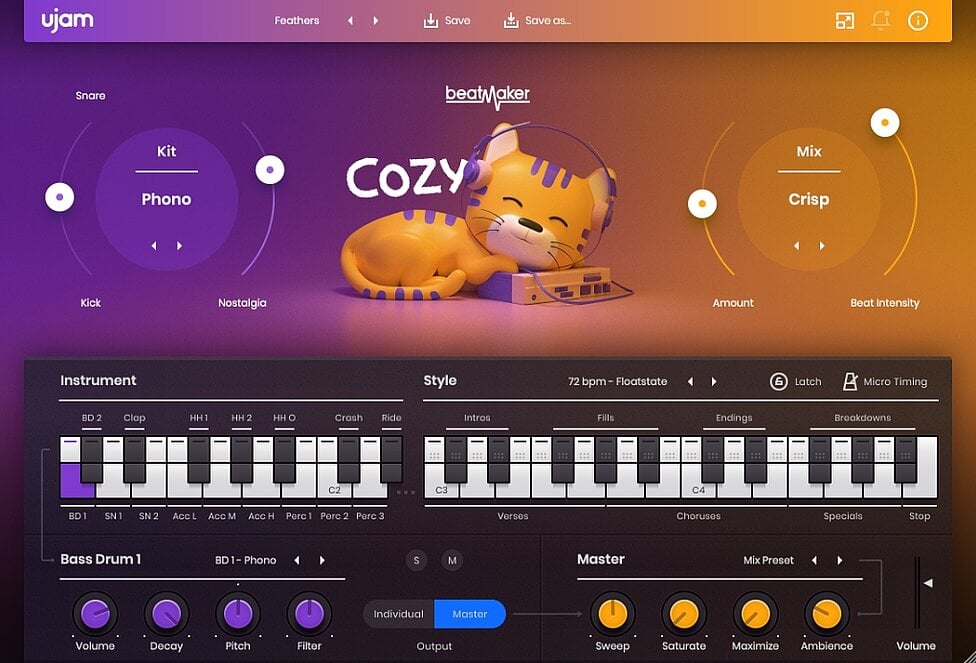 Laid-back, but right on time
COZY's grooves have that perfect lazy feel that comes from hitting the snare just a little late. Combined with drum sounds that have just the right amount of tape warmth and dusty vinyl crackle, this Beatmaker will have you vibing in an instant.
10 drum kits, 460 patterns
MIDI Drag & Drop, Resizable User Interface
Special Control: Nostalgia
Low fidelity, high quality
We couldn't bring ourselves to sacrifice even the tiniest bit of sound quality for this Beatmaker. We used the best drum samples out there and roughed up the fidelity afterward, to make sure COZY delivers beats that don't skimp on integrity.
Much like LoFi Girl, we've been studying to perfect the Beatmaker for years. Our frustration-free design is optimized to get you the best results as quickly and easily as possible.
If you want to dial in some extra detail, you can control the decay, pitch and filter settings for each sound. You can also control the saturation, compression and ambience of the overall mix to make sure everything is gelling perfectly.
Whether it's to get focused on your work, or to relax after a long day, COZY's comforting sound will get you and your listeners in the right headspace in a matter of clicks.
Hear how COZY creates the chillest grooves!
COZY features 10 kits with 16 drum instruments each. There are 20 Styles with 23 ready-made patterns, for a total of 460 patterns. Plus: Pair with Usynth DELUXE for jazzy warm colors or use Finisher RETRO to rough up the signal even more.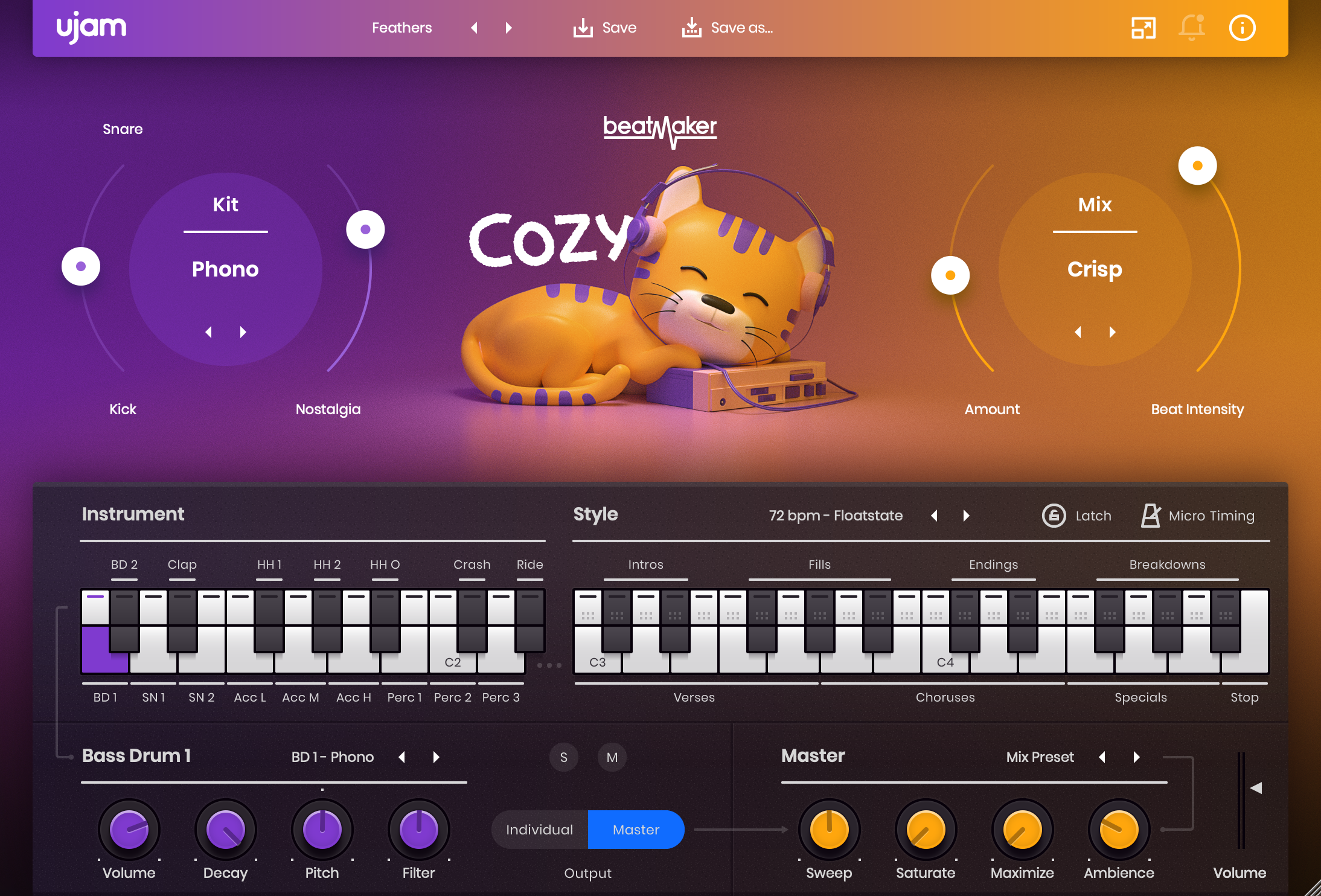 Special control: Nostalgia
Turn up the nostalgia with COZY's special control. You can get even more vinyl crackle, smooth the transients, pull back the highs and lows, increase saturation and add the sound of a beautiful tube mic via convolution by simply moving a one dial.
Lofi hip hop beats are all about the feel. Our micro-timing feature will let you set the swag level from higher to highest.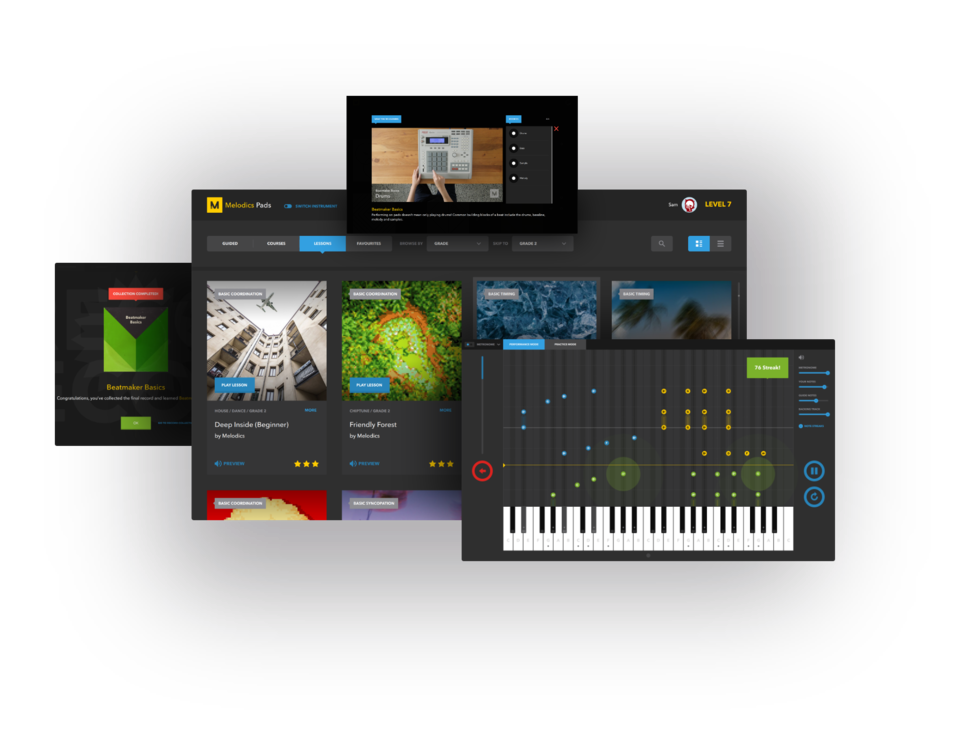 Get COZY, Unlock Melodics™
Elevate your production skills with Melodics™. With easy-to-follow courses and real-time feedback, Melodics™ will help you improve your timing and feel with a catalogue of world class lessons for keys, pads and drums. Unlock 40 free lessons to get you leveling up fast, plus get an exclusive bonus lesson created using UJAM's Beatmaker COZY. Buy COZY now to get a unique promo code via email.
We develop software solutions that enable people to create, consume and interact with music.