Out Now: Finisher BOOST by UJAM
Learn about the new plug-in of UJAM's creative effects Finisher series: BOOST. Made to create massive impacts & uplifters with one knob.
March 29TH, 2023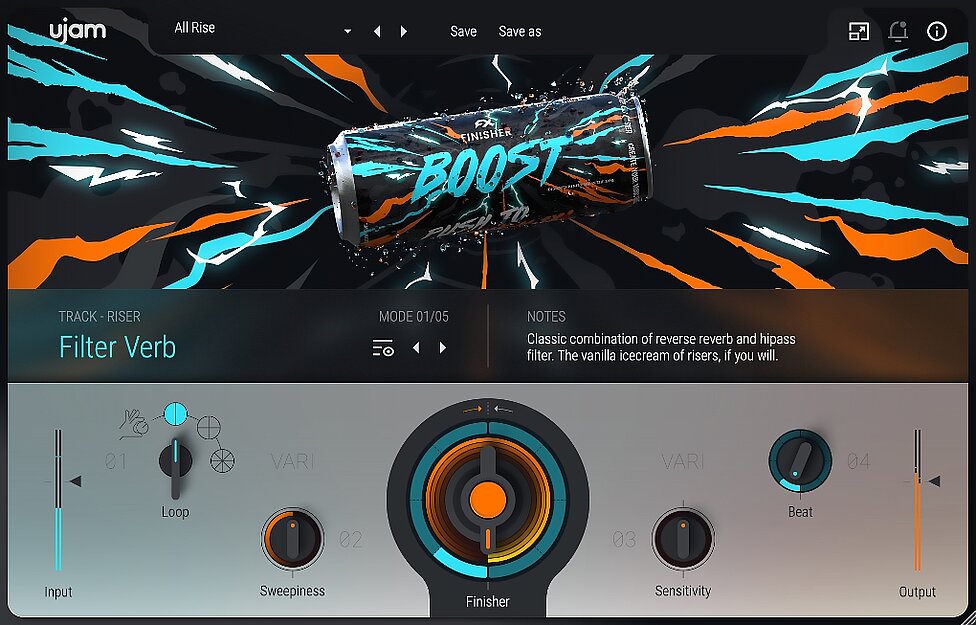 German-American plug-in makers UJAM announce the release of BOOST, plug-in of the creative effects Finisher series. BOOST automates the creation of risers, impacts , breakdowns and any kind of transition. Turning the potentially time-consuming task into a simplified process typical for UJAM Finisher products.
Finisher BOOST syncs to any DAW's grid and offers phrase lengths of 2, 4 or 8 measures. Users just need to choose a style and at which beat they want maximum intensity; everything else is automated. There's also a manual mode to freely conduct the transition.
BOOST contains the following features:
60 multi-effect modes
200+ included presets
Loop control, intuitive Flip button, and Vari controls custom-tailored to each mode
Available natively on Apple Silicon and in VST3, VST2, AAX, and AU formats
Pricing and availability
Finisher BOOST is now available at ujam.com for an introductory offer of 69 EUR / USD until April 16th 2023. After that, the single plug-in sells for 99 EUR / USD. Owners of any other Finisher are entitled to a time-limited loyalty offer of 49 EUR / USD until April 16th. The Finisher Bundle sells for 349 EUR / USD instead of 594 EUR / USD if bought individually. Finishers are natively Apple Silicon compatible and currently available in VST 2, VST 3, AU 2 and AAX formats for all major DAWs.
About Finisher
BOOST complements the Finisher series which includes RETRO (vintage), VOODOO (guitar), DYNAMO (rhythmic), NEO (sci-fi), and FLUXX (experimental), as well as MICRO (free).
BOOST is available now in VST 2, VST 3, AU 2 and AAX formats and also as a free, fully functional 30-day trial at ujam.com. The plug-in runs natively on M1.
About UJAM
UJAM is a German-American maker of music technology co-founded by Hans Zimmer and Pharrell Williams that develops Virtual Instrument and Effects Plug-ins. With the Plug-in series Virtual Pianist, Usynth, Groovemate, Symphonic Elements, Virtual Guitarist, Virtual Bassist, Virtual Drummer, Beatmaker and Finisher and a range of software solutions (desktop, mobile, web), UJAM helps people to make music.
We develop software solutions that enable people to create, consume and interact with music.